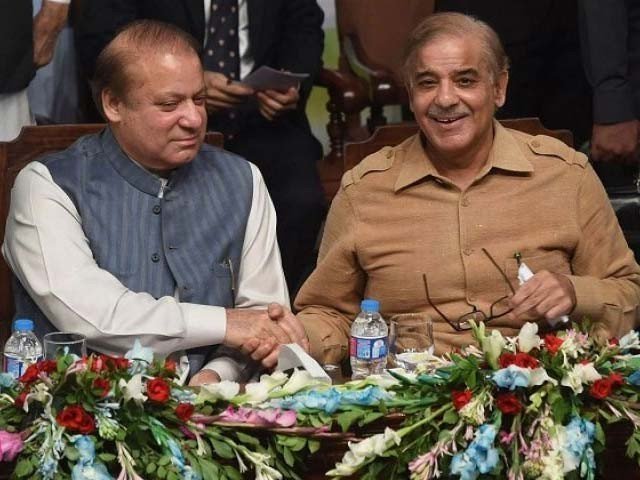 ---
KARACHI: The Pakistan Muslim League-Nawaz (PML-N) has concerted a new strategy to contain intra-party instability by letting Shehbaz Sharif be the face while Nawaz Sharif handles behind the scenes.

The decision was made during a recent meeting attended by party leadership including the Sharif brothers, Prime Minister Shahid Khaqan Abbasi and other PML-N leaders emphasizing that the Nawaz will not be looking after the organisation and political matters of the party.

Held in the backdrop of current political situation, matters related to party members leaving, activities of rival parties—Pakistan Peoples Party (PPP) and Pakistan Tehreek-e-Insaf (PTI)— preparations for the interim setup and upcoming general elections, distribution of party tickets, demand for South Punjab as a separate province and corruption references against the Sharif family were discussed.


Sindh bigwigs mull defecting PML-N


Sources told Express News that the party was working on options to control increasing differences within the ranks. Nawaz has been advised to manage matters behind the scene and let Shehbaz be the front-man.

The chief executive of Punjab has been tasked to negotiate with disgruntled party members. The party has decided to not strain contacts with those who have joined other parties.

For the general elections, members loyal to the party and with a strong political hold in their respective constituencies will be considered for provincial and National Assembly seats. During the meeting PML-N reached a consensus to negotiate seat adjustment with like-minded parties only. Another major policy concluded was to target PPP and PTI.

The ruling party is dwelling on making its provincial and federal performance report public.


PML-N pledges to bifurcate Punjab, Sindh


If Nawaz is indicted in the references filed by National Accountability Bureau, the party will be led by Shehbaz while Hamza and Maryam will assist him. The party has decided to pass a presidential ordinance of plea in case of Nawaz's indictment. Speaking to Express, PML-N Information Secretary and Federal Minister Mushahidullah Khan said as current president of PML-N, Shehbaz would work under Nawaz's guidance.

Care-taker government

The ruling party will appoint an interim prime minister after consultations with the Opposition Leader in National Assembly Khursheed Shah while Punjab chief minister will be decided in agreement with PTI.  Khan told Express News that Shehbaz Sharif would visit all the provinces in the coming days.