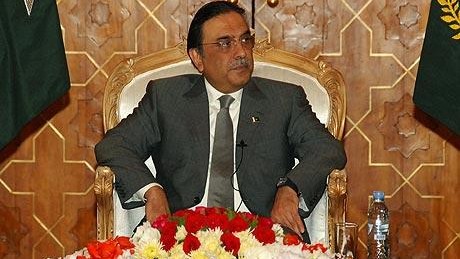 ---
ISLAMABAD: The first ever written request from Pakistan's attorney-general to his Swiss counterpart, dated February 12, 1998 accused Asif Ali Zardari of drug trafficking and not money laundering.

Neither the Sharif government nor the succeeding military government of Musharraf could prove these charges in Pakistani courts against Zardari. Therefore, the Swiss authorities were left with no choice but to ignore the request.

Subsequently, former Ehtesab Bureau chief Saifur Rehman sought to implicate Zardari in a money laundering case.

Former attorney-general of Pakistan, the late Chaudhry Muhammad Farooq's letter (No 6 (45) /98-CHACC), a copy of which has been obtained by The Express Tribune, written to Ms Carla Del Ponte, Attorney-General of Switzerland had requested "seizure of accounts, properties and retrieval of information concerning Asif Ali Zardari and his associates regarding their drug related activities."  The letter further said that the request for assistance was being made pursuant to the United Nations (UN) convention against illicit traffic in narcotic drugs and psychotropic substances signed in Vienna in 1988.  The letter also stated that the subject of the First Information Report (FIR) disclosed that Zardari through current Sindh Home Minister Dr Zulfikar Mirza, received sums amounting to approximately Rs50 million from one Arif Baluch, a known drug trafficker in return for facilitating the shipment of narcotics by ensuring that such shipments were not stopped by customs authorities in Pakistan.

"Zardari's nexus with drug barons is an established fact in Pakistan. It commenced in his youth when he came in contact with the main drug gangs in Karachi," the letter stated.

Speaking on behalf of former interior minister Chaudhry Shujaat Hussain, Ghulam Mustafa Malik said that "Mr Hussain did not know about any letter written to Swiss authorities regarding Zardari's involvement in drug cases when he (Shujaat) was the interior minister in 1998."

However,  in an interview with The Friday Times, on July 14, 2000, Hussain had said that the government's motive "in filing this case was to find a way to invoke the Criminal Justice International Cooperation Act 1990 in order to uncover Zardari's alleged assets in the UK."

Despite intense pressure from the Sharif government, Gen Mushtaq, who was heading the Anti-Narcotics Board at the time, refused to register a case against Zardari because there was no evidence to suggest his involvement in narcotics.

Pakistan Muslim League-Nawaz (PML-N) member Khawaja Muhammad Asif, while addressing the national assembly on April 8, 2005 admitted that his party's government jailed Zardari on false and fabricated charges.

Asif added that Rehman had prepared fictitious cases against Zardari. "Saifur Rehman has tendered his apology to Zardari and is now residing in Qatar," he said.Presidential Spokesperson Farhattullah Babar told The Express Tribune that the drug case should not be turned into an issue since it has already been dealt with by the courts. Law Minister Dr Babar Awan has already informed the Supreme Court about Zardari's cases. "The drug case against Zardari appeared to have fizziled out in Pakistan and not heard of again after former interior minister Chaudhry Shujaat Hussain himself declared that they were false and had been fabricated by Saifur Rehman," Babar said.

Published in the Express Tribune, May 28th, 2010.