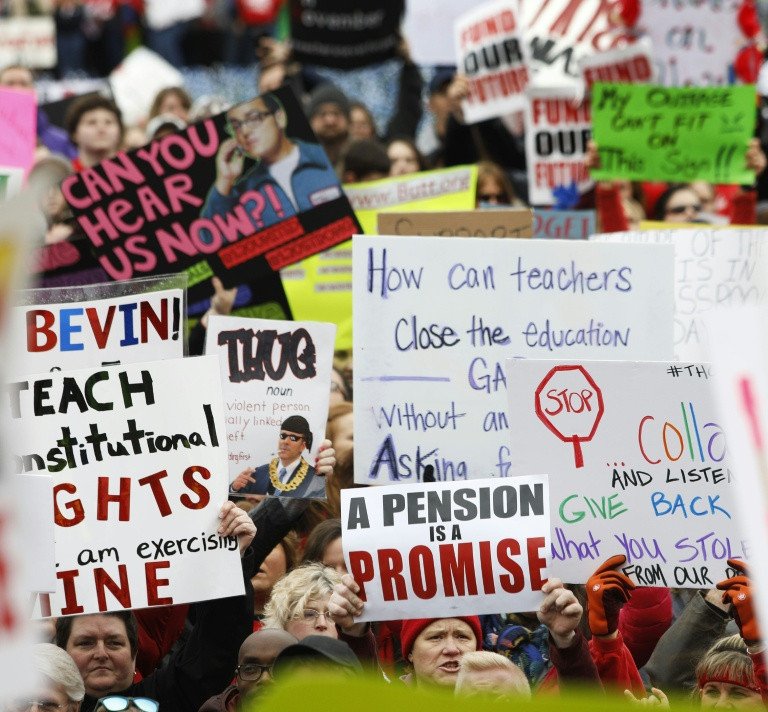 ---
OKLAHOMA CITY: Oklahoma teachers vowed on Thursday to keep up their protests after the US state's lawmakers bowed to intense pressure and approved more school funding — but the pledge still fell short of teachers' demands.

Tens of thousands of educators and their supporters have rallied in the capital Oklahoma City this week — shutting down schools across the state as they demanded a reversal of a decade of education funding cuts.

The House chamber of the Republican-controlled state legislature late Wednesday approved $20 million in additional money for public schools —having amended a bill on online sales taxes to dedicate the funds to education.

The measure —which still must be passed by the Senate and signed by the governor —brings teachers about halfway toward their initial demands.

"We're very close," teachers' union president Alicia Priest told The Oklahoman newspaper. "We just have a little bit more work to do."

The protests have brought attention to deep cuts in public school budgets that have forced teachers to take multiple jobs and left classrooms in disrepair.

Teachers are confident their communities support the protest movement, and vowed to continue the rest of this week. They have also made preparations to return next week, if necessary.

"We believe that a fully funded public education system is vital to a fully-functioning community," Reverend Lori Walke told TV station KOCO —one of a group of clergy that arrived at the capitol Thursday to show support.

Students have also rallied on behalf of teachers —warning Wednesday that teenagers reaching voting age would throw legislators out of office if they remained unresponsive.

Thousands of teachers march for US school funding

The teachers' union, the Oklahoma Education Association is seeking $200 million in additional school funding —on top of pay raises —to restore budget cuts over the last decade.

State lawmakers recently agreed to a rare tax increase to raise teacher pay by an average of $6,100 a year, and provide some of the additional funds sought for classroom expenditures.

The latest funding bill that passed in the House would bring teachers almost half-way toward their $200 million demand.

"We need the legislature to show us that they're committed to that pathway forward to getting us back to the funding from 2007-2008," Priest told The Oklahoman.

The conservative state's teachers have followed in the footsteps of similar teacher revolts in West Virginia, Kentucky and Arizona —all Republican-dominated states.

West Virginia teachers got their first pay raise in four years last month after a nine-day strike.