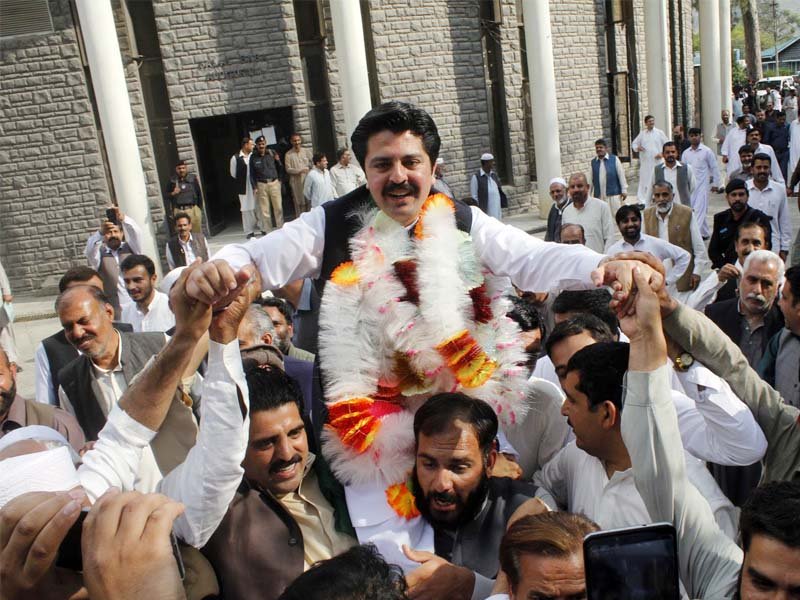 ---
ABBOTTABAD: As expected PTI nominees Ali Khan Jadoon and Sardar Waqar Nabi were elected nazim and naib nazim repectively of Abbottabad district by securing 45 votes each in the house of 77 against their rivals PML-N who could only manage to secure 31 votes with one member in absentia in elections  held  at Jalal Baba Auditorium on Thursday.

Ali Khan Jadoon , who belongs to one of famous political families of Hazara Division and is the youngest  son of former federal minister Amanullah Khan Jadoon who are dominating the politics of Abbottabad district since decades with close contest and rivalry of Sardar Mehtab Ahmed Khan.

Naib nazim is also from another famous political family of Abbottabad district and is the eldest son of former provincial minister Late Sardar Ghulam Nabi Khan. Sardar Waqar Nabi is also first cousin of Chief Election Commissioner of Pakistan Sardar Raza while his other relatives also hold some key postings in different departments including FBR.

District nazim polls: PML-N, PTI face-off today

Both the nominees of PTI once lost in the first leg of elections three years back when local bodies elections were held.

Sardar Sher Bahadar with the support of PML-N members and some members elected on reserved seats and three members of PTI won the election but later  de-seated through defection clause and long legal battle ended in favor of PTI challengers and this time won the district nazim and naib nazim seat without any difficulty.

PTI had the majority of 43 seats with support of JI and PPP members. Assistant Commissioner Abbottabad Rohan Barhana after the scrutiny of the members and nomination papers of the contestants  for the election . Later Deputy Commissioner Abbottabad Aurangzeb Khan administered the oath to the elected nazim and naib nazim and house was adjourned for an indefinite period.

PHC upholds ECP decision to de-seat Abbottabad nazim

Later all the members of the PTI and their supporters celebrated the victory at the house of Amanullah Khan Jadoon on Mansehra road with the PTI  ministers Mushtaq Ahmed Ghani, Qalandar Khan Lodhi  and elected MNA from Abbottabad Dr Azhar Khan Jadoon.

Jadoon while speaking to the media said: "we will make an effort to redress the problems of the people of Abbottabad city."

During the suspension and trial period, development funds of more then Rs 1.2 billions could not be spent and no extra special grant could be received by the district council.

He said now the funds will be utilised for the developmental schemes in the district without any discrimination and political affiliations.

Published in The Express Tribune, April 6th, 2018.
COMMENTS
Comments are moderated and generally will be posted if they are on-topic and not abusive.
For more information, please see our Comments FAQ