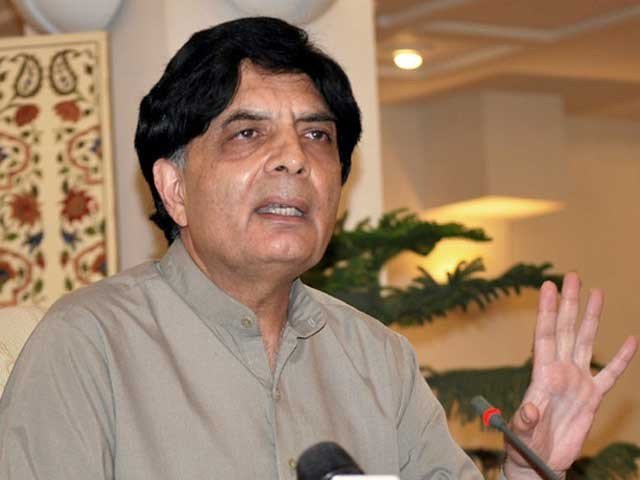 ---
ISLAMABAD: Reacting to a recent meeting between officials of Pakistan and India in Islamabad, former interior minister Chuadhry Nisar Ali Khan has said that in the backdrop of Indian state-sponsored terrorism in the occupied Kashmir, the engagement is 'incomprehensible'.

The moot between National Security Adviser Gen (retd) Nasser Khan Janjua and Indian High Commissioner Ajay Bisaria came just days after Islamabad and New Delhi agreed to resolve the controversy over harassment of diplomats through talks.

The Indian media quoted unnamed officials as saying that the breakthrough was reached only after Pakistani and Indian NSAs spoke on phone on March 26.

"We must take into consideration the message which is conveyed through such meetings to the Kashmiris," Nisar said in a statement issued on Wednesday.

"Till the time our policy is not clear from such ambiguities and contradictions, our support to Kashmiris would appear as merely lip service," he added.

Pakistan, India to gradually resume dialogue

"Does our high commissioner in India also get similar treatment from the Indians?" questioned the Pakistan Muslim League-Nawaz (PML-N) senior leader.

He deplored that Pakistani diplomats are being routinely harassed in India, but in Islamabad "we are meeting them and talking about friendship".

Chaudhry Nisar said that even the United Nations secretary general has taken notice of what was happening in the occupied Kashmir and the Amnesty International had termed it a blatant state terrorism. "But here we are giving a message as everything is alright in the region and the two countries are coming closer to each other," he added.

"We must not forget that the martyred Kashmiris, who are struggling for their independence are buried wrapped in Pakistani flag and we are meeting their murderers as everything is okay or nothing has happened," he also said.
COMMENTS (1)
Comments are moderated and generally will be posted if they are on-topic and not abusive.
For more information, please see our Comments FAQ