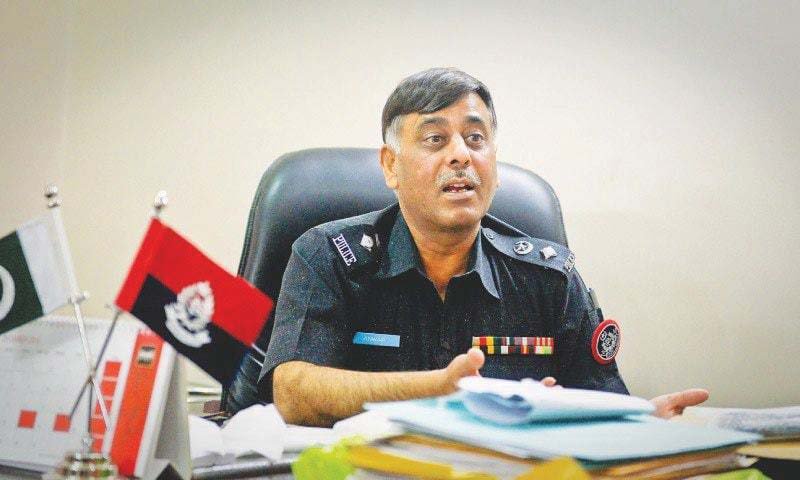 ---
KARACHI: Around two weeks have passed since the arrest of SSP Rao Anwar. However, police investigators inquiring into the extrajudicial killing of 27-year-old South Waziristan's youngster, Naseemullah Mehsud, commonly known as Naqeebullah, have not been able to trace the whereabouts of the absconding members of SSP Anwar's team, who are believed to be directly involved in the killing of Naqeebullah.

The joint investigation team (JIT) formed in the Naqeebullah murder case has reportedly been questioning SSP Anwar about the whereabouts of his team members who were responsible for killing Naqeebullah, but nothing positive seemed to have come out.

"Basically, it was not a fake encounter but a custodial killing," said a police officer. "From day one, it was known that all suspects [SSP Anwar and his team members] went into hiding together and SSP Anwar was assisting them. But now, SSP Anwar is denying his involvement in helping his aides go into hiding," he added.

So far, the investigators have failed to prove the SSP guilty of Naqeebullah's murder. However, the SSP has recorded a statement in his defence in which he has blamed his subordinates for conducting a fake encounter.

"SSP Anwar is repeating the same statement which he earlier gave to the media and the inquiry committee before going into hiding," explained a senior police officer, requesting anonymity. "The court wants evidence. There is no evidence so far that could prove him guilty. The JIT should prove him guilty by providing evidence against him, otherwise, he may get a clean chit."

Will not spare those facilitating Rao Anwar: CJP

In his multiple statements to the JIT, SSP Anwar has claimed that he had no role in the encounter. He told the JIT that he visited the encounter site after the incident. "I did not order them [police team] to conduct an encounter. My mobile phone's location can be checked to verify my statement. I cannot say exactly whether they killed them [Naqeebullah and others] intentionally or unintentionally because I could not investigate the case or question them about the encounter. They should be arrested and asked why and how they killed them, instead of questioning me," a source privy to the matter quoted SSP Anwar telling the JIT.

Some media reports claimed that SSP Anwar was shifted to his own residence which was declared as 'sub-jail' and in his recorded statement to the JIT officials, he said that the IG and other senior officials were aware of his whereabouts.

However, JIT chief AIG Aftab Pathan denied such reports. "We had no information about his hiding place. That is wrong. It is also wrong that we have detained him at his own house," AIG Pathan said. He added that he could not say anything regarding the involvement of SSP Anwar in Naqeebullah's murder as the investigations were still under way. "We will be able to comment after the investigation is complete."

AIG Pathan is heading the five-member JIT investigating the case. South Zone police chief DIG Azad Khan, Special Branch AIG Waliullah Dal, East Zone police chief DIG Zulfiqar Larik and Central SSP Dr Rizwan Ahmed Khan are the other members of the JIT. SSP Anwar has been in the JIT's custody since he surrendered himself at the Supreme Court on March 21.

Although SSP Anwar is in police custody, 13 of his team members allegedly responsible for killing Naqeebullah are at large. They have also been dismissed from service. Three separate police teams, headed by three SHOs, including Taimuria SHO Asif Munawar, Sir Syed SHO Javed Sikander and Rizvia SHO Arshad Janjua, have been formed to trace and arrest the 13 dismissed cops.

Case history

SSP Rao Anwar and his team went into hiding when they were blamed for the killing of Naqeebullah and three others in a fake encounter in the Shah Latif Town area on January 13. Initially, the SSP claimed that the four victims were associated with the banned Tehreek-e-Taliban Pakistan and Da'ish and were killed during an encounter with the police.

The killing of Naqeebullah sparked countrywide protests. A murder case was registered against SSP Anwar and his team at the Sacchal police station after a three-member inquiry committee headed by the Counter-Terrorism Department AIG established their involvement in the crime. The FIR also included clauses of the Anti-Terrorism Act.

SHC seeks reply from officials over Rao Anwar's fake encounters

The family of Qari Ahsan, one of the men who were killed along with Naqeebullah, also approached the police for registering a kidnapping and murder case against SSP Anwar and his team. However, the case has yet to be registered.

Taking suo motu notice of the incident, the chief justice of Pakistan ordered the government to include the name of SSP Anwar in the Exit Control List and also ordered the police to arrest him. After many deadlines for his arrest lapsed, the SSP surrendered before the apex court.