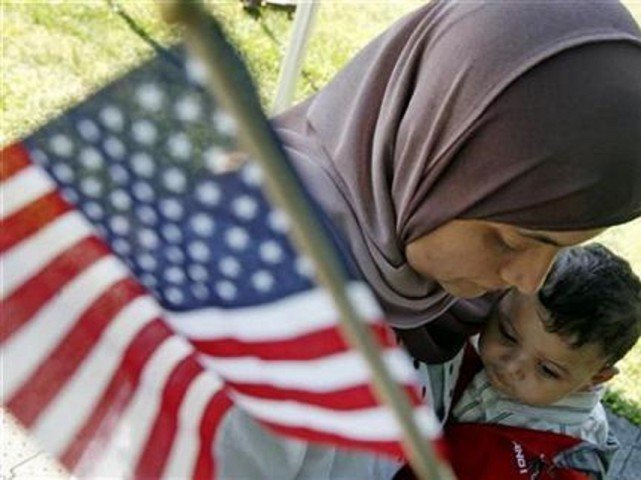 ---
CHICAGO: Fliers promoting 'Punish a Muslim Day' have triggered concern in schools and mosques, alarming the Muslim Community across the US.

An anonymous caller in the UK had planned the day on Aril 3 asking people to carry out acts of violence against Muslims.

Different Muslim schools and mosques have taken measures by themselves asking help from the village police to provide security in case of any untoward incident.

Schools have sent emails to parents regarding the threat and have also asked authorities to provide security to institutions on the day.

Parents have avoided sending their children to school on Monday fearing they might be subjected to any kind of violence.

Muslim women in UK told to hide hijabs, stay indoors ahead of 'Punish a Muslim Day'

Ken Teppal Police Chief of the Bolingbrook, Chicago Illinois, while responding to the query said; "We have heard of this movement, but it has been mostly overseas.

"We have alerted our patrol units and they will be a little more frequent in the mosque areas. As of now, we have no credible threat directed at anyone, but we will continue to monitor."

Teppal has also directed the police command to monitor Muslim-dominated areas and especially mosques and schools.

He further said a meeting of the police department had been convened on Monday discussing overall circumstances.

"This is unnecessarily outspoken promotion of violence," he stated.

Principal of Al-Huda School Samia Altaf while talking to this scribe denied receiving any official concrete threat from any quarter but said they had also requested the police to provide them security.

UK man 'obsessed' with Muslims hit group with van: court

Precaution Advisory

The Arab American anti-Discrimination Committee has also issued advisory tips to its member and the greater community to be safe and exercise precaution.

The advisory said that if placed in physical danger because of a person's ethnicity, religion or national origin they should contact their local FBI office.

It further encouraged the Muslim community to reach out to each other.

"Having these relationships established before an incident occurs can help speed up the response when something happens, or when a threat is imminent. It is advisable to find out whether your place of worship has an open line of communication with law enforcement. If there is no line of communication, it is advised that one be established. A request for law enforcement presence should be made with law enforcement prior to large gatherings at places of worship," it added.

It advised the Muslim Community to outline a security solution for the day and have an emergency plan ready.

"Be familiar with all the exits to your place of worship, in case the building is attacked," it added.

The advisory cautioned to contact the law enforcement immediately if they see something suspicious.