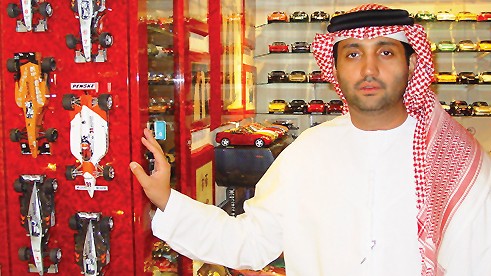 ---
As a child, Sohail Muhammad alZarooni did not play with his toys, he collected them and it culminated into a lifelong passion. Today, despite being a successful and wealthy businessman, Zarooni is known for his collections.

"I am not into unique stuff, I collect anything and everything that my heart tells me to" said Zarooni defining his passion. He has over 50 collections. "I collect miniature cars, matchboxes, Cartier pens, currency, antiques, dolls, first day covers, stamps, Wedgwood, hotel keys, old radio sets, newspaper clippings of significant events and other things," he said.

His collection of over 9,500 miniature cars is what he holds closest to his heart. It's the first collection that he started at the age of 10 which made him a world record holder in the Guinness book of world records in 2002 and 2003.

His collection includes miniature models from the 1950's to the new Maybach, Hitler's Mercedes Benz, 40 different kinds of hummers, the Kennedy car, James bond models, police cars from the UAE and other countries and the Warner Bros collection.

He aims to collect 10,000 mugs to beat the current Guinness world record of 5,600 mugs. One of his most unique and interesting collections are the Princess Diana dolls. "Out of the 28 Princess Diana dolls that exist in the world, I have 17," he said enthusiastically. "My latest interest is in mobile sets, which one can find so many of in Pakistan" he told The Express Tribune. Being a collector, he thinks that the best items are available in the Far East as well as Pakistan.

The one unique piece which he values most is the model of a local rickshaw. "It had lights and functions just as the original one and I loved it as I had seen the rickshaws in Karachi" he said.

He has started a peace initiative, 'Boundaries Do Not Bind' specifically for Pakistan and India. The project is a peace initiative focusing on cultural similarities of the two countries. 'I have met people in Pakistan and India and neither wants hostility with the other" he said.

Talking about Pakistan, he said that while the people of India are famous and recognised world over, Pakistani's are not, despite having immense talent.

"I met Javed Sheikh personally and I was deeply impressed by him, he is not as valued and famous as bollywood stars, I want to change that" he said emphasising that Pakistani's must get credit for their talent.

Published in the Express Tribune, May 28th, 2010.
COMMENTS
Comments are moderated and generally will be posted if they are on-topic and not abusive.
For more information, please see our Comments FAQ