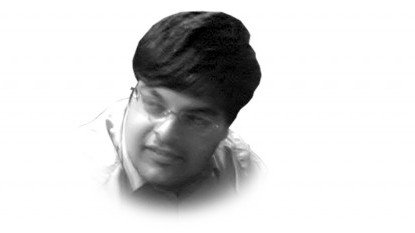 ---
Every day in Pakistan, hundreds, if not thousands, of protests are staged. Most of them hope some reporter will find something unique in their daily drivel of a woe-story. And most of these stories never make it to public memory. We are living in a society where protests must fight each other for the few spots available to them. Lo and behold, another group of discontented citizens threatened to stage a protest at two pm tomorrow. But will the reporter show up? Our poor reporter has to decide between this and another protest at the same time where people will pour kerosene on themselves. Which one do you think the reporter will cover?

And at the end of the day when the kerosene protest has to compete with another protest, where people actually got critically injured, for the last spot on the page, which one do you think will make the final cut? And the very next day when a reader decides to have a discussion with her slightly more uninformed friends, choosing between the protest where three people got badly injured and this other protest where one teenager actually died, which one do you think she will pick?

And a week later, after the media has made a lot of hype about the incident, which case do you think the Supreme Court will take suo moto note of? It is a cruel world out there. The strongest stories survive and the weak ones are ignored – their problems, no less genuine, are forgotten.

It is about time that every issue is not left for the media to pick up and publicise. The various institutions that are there in this country to address public grievances and to tend to their complaints need to get their acts together. The media by itself cannot be expected to fix all that is wrong. And neither can the Supreme Court. What needs to happen is for the institutions to stand up and do their job.

Published in the Express Tribune, May 28th, 2010.
COMMENTS (3)
Comments are moderated and generally will be posted if they are on-topic and not abusive.
For more information, please see our Comments FAQ