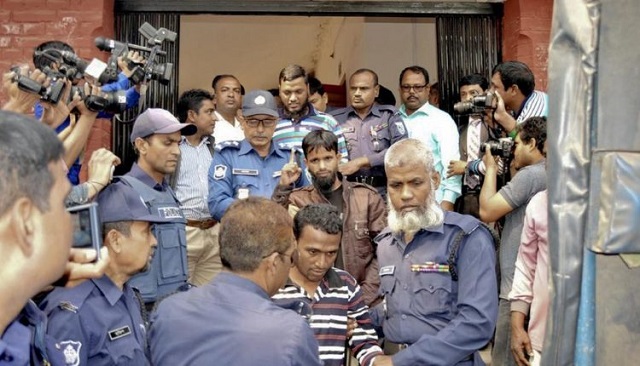 ---
DHAKA: A prominent Bangladeshi lawyer who fought the state's case in a high-profile murder trial against extremists has disappeared, police said Sunday, with grave fears for his safety.

Judges offered closed-door briefing on missing persons

Ratish Chandra Bhowmik, a respected prosecutor and champion of minority rights, has not been seen since he left his home in Rangpur early Friday morning.




His disappearance comes a fortnight after seven militants from the Jamayetul Mujahideen Bangladesh were sentenced to death for murdering the caretaker of a Sufi shrine in November 2015.

Bhowmik led the case that saw nearly a dozen hardliners from the homegrown extremist group convicted for killing the caretaker because they considered him a heretic.

Lawyers in the northern Bangladeshi city have staged protests calling for information about their colleague.

"We are concerned and worried," said Abdul Malek, a lawyer who represented the state with Bhowmik in the trial against the militants.

Bhowmik, a Hindu and leading cultural activist, also lead the state's prosecution against five JMB extremists sentenced to death for the murder of 66-year-old Japanese farmer Hoshi Kunio in 2015.

Rangpur regional police chief Khandaker Golam Faruque told AFP that Bhowmik had refused the offer of an armed escort during the high-profile trials.

41 dead as Bangladesh ferry sinks, search for missing

"There was no threat against him. His family filed a complaint about his disappearance on Friday night," Faruque said.

JMB regrouped after the execution of its founder and top leadership in 2007 and has been blamed for a wave of attacks on religious minorities, atheist bloggers and foreigners in recent years.

In July 2016, suspected JMB militants stormed a Dhaka cafe and massacred 22 hostages, including 18 foreigners, in an assault claimed by the Islamic State group.




Bangladesh has been waging a campaign against JMB and other homegrown militant outfits in the wake of the attacks.

Security forces have shot dead more than 70 alleged militants in a crackdown since the cafe assault.

Hundreds of suspected militants have also been arrested, and scores have been sentenced to death.
COMMENTS
Comments are moderated and generally will be posted if they are on-topic and not abusive.
For more information, please see our Comments FAQ