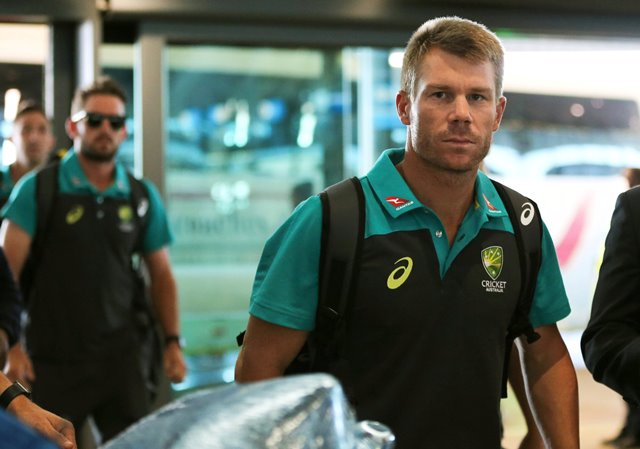 ---
SYDNEY: David Warner, who has been identified as the instigator of a ball-tampering scandal that rocked the cricket world, will hold a media conference to discuss the issue on Saturday, Cricket Australia (CA) has said.

A CA investigation found opener Warner had instructed junior batsman Cameron Bancroft on how to scuff up one half of the ball with sandpaper during the third test against South Africa.

Warner suspended from international and state cricket for 12 months and banned from ever holding a leadership position in the test team. Bancroft was banned for nine months for his part, while axed skipper Steve Smith also received a one-year ban.

Ball tampering scandal will haunt Smith forever, says Chappell

Darren Lehmann said on Thursday he would step down as coach following this week's match against South Africa. CA said on Friday that Warner, who arrived home separately from his former captain, would hold a formal media conference on Saturday.

Local media said it would be held at New South Wales Cricket's offices. Both Bancroft and Smith gave tearful media conferences when they arrived back on Thursday.

The 31-year-old Warner has largely been silent since the scandal unfolded despite becoming the target of much of the blame by media, fans, former players and commentators.

He arrived back late on Thursday with wife and two daughters and briefly addressed a large number of local media. "As you can understand, it has been a tough, emotional time for my wife and kids," Warner said at Sydney airport.

"At the present time, you'll hear from me in a couple of days. At the moment, my priority is to get these kids in bed, and rest up and get my mind a bit clear so I can think, and talk in a couple of days."

The emotional news conferences by Bancroft and Smith, who was supported by his father, elicited some sympathy from around the cricketing world with former England captain Michael Vaughan urging people to give them a second chance when their bans end.

"I honestly think Steve Smith & Cam Bancroft are decent guys who had a moment of madness, they deserve a 2nd chance and hopefully get the right support around them now .. Takes a lot guts to do what they did today ," Vaughan wrote on Twitter.

Smith and the failure of Australianism

He was less forgiving of Warner. "The revelations from Cricket Australia (CA) on Wednesday that he was the mastermind of the plot and had told Bancroft to cheat were damning," he wrote in a column for The Telegraph in Britain.

"The fact that he had also shown him how to do so by using sandpaper to scuff one side of the ball suggests to me that this was not the first time he had done it. "All that is a massive black mark against his name."
COMMENTS
Comments are moderated and generally will be posted if they are on-topic and not abusive.
For more information, please see our Comments FAQ