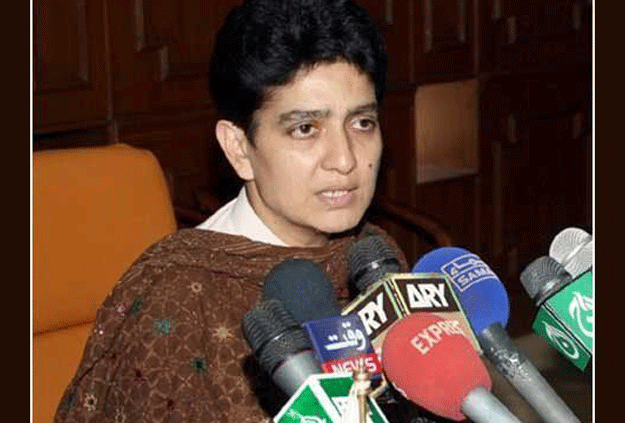 ---
QUETTA: Balochistan Assembly Speaker Rahila Hameed Khan Durrani has said that players are the country's asset while provincial government is trying to promote sports activities and bring talent forward in the province.

"The government is utilising all available resources to expand sports grounds in the province and make them successful and green," said the speaker while addressing a ceremony regarding the final women's hockey match at the Government Girls College Cantonment organised by the Balochistan Women Hockey Association in connection with the Pakistan Day on Tuesday.

Balochistan Assembly defers 'third cadre' bill as matter sub judice

Speaker Rahila said, "Players are the identification of our country and the province."

"Players will use their abilities at each platform for betterment of the country and they can tell the world that we are a decent and talented nation," she added.

She said the role of teachers is very important in providing education in every society but "today we have reached the highest level due to the tremendous work and character of teachers".

The speaker said, "Students are being provided with the best environment in various institutions, but it is your [teachers'] responsibility to take full advantage of these opportunities for imparting [students'] quality education in the province."

PML-Q's Mir Abdul Quddus Bizenjo sworn in as Balochistan CM

On the occasion, Principal Noor Jahan highlighted the curriculum and non-curriculum activities in the college and said that the syllabus, including health and other activities, were of the best quality.

The Balochistan speaker appreciated the efforts of the principal and teachers in increasing the literacy rate in the province and assured them that she would cooperate with them for development of the college.

Earlier, the speaker hit the ball to start the final match.

The final match was plaid between Women Hockey Chiltan and Women Hockey Zarghoon teams which the latter won.

Later, Speaker Durrani distributed trophies to the winning team and awards to the players with the best performance.

Social activist Suriya Allah Din, teachers, a large number of girl students and others were present on the occasion.
COMMENTS
Comments are moderated and generally will be posted if they are on-topic and not abusive.
For more information, please see our Comments FAQ