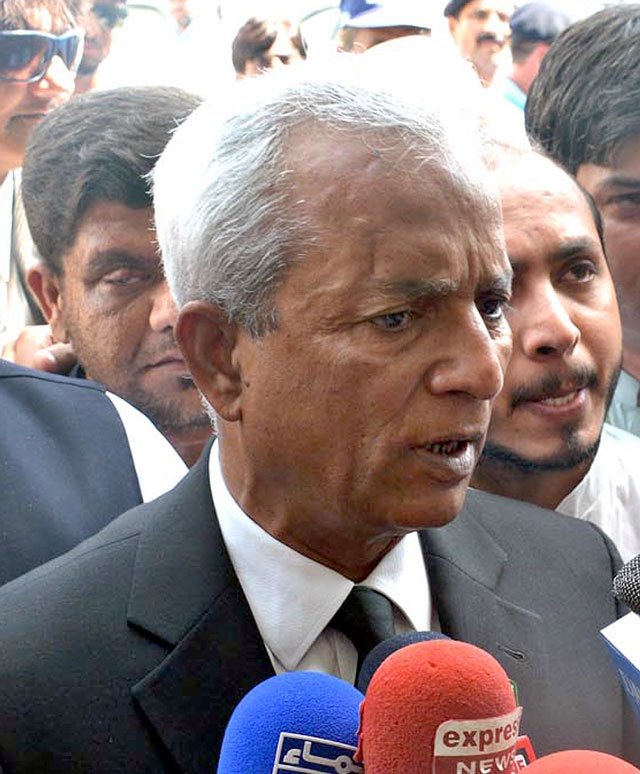 ---
ISLAMABAD: The Supreme Court (SC) on Tuesday accepted former senator and Pakistan Muslim League-Nawaz (PML-N) leader Nehal Hashmi's unconditional apology to the court for passing unwarranted remarks against judges after his release from Adiala jail.

The court has also discharged the second contempt case against him.

Hashmi was indicted and disqualified from holding public office, and was then served a second contempt notice for abusing judges after his release from jail. He had been serving a sentence of one month prison for the earlier offence.

Representatives of the bar council requested the top court to drop the charges, on which, a three-member bench headed by Chief Justice of Pakistan (CJP) Mian Saqib Nisar, asked Hashmi to submit an unconditional apology.

Supreme Court Bar Association president Peer Kaleem Khursheed, Pakistan Bar Council Vice Chairman Kamran Murtaza, former PBC vice chairman Ahsan Bhoon, ex-SCBA president Rasheed A Rizvi, Naeem Bukhari, and Ibrahim Satti appeared before the bench.

Will not spare you, top court rebukes Nehal Hashmi

All except Bukhari and Satti recommended the SC to accept his apology. Rizvi told the bench that the Sindh Bar Council has already suspended his license for three months and his matter has been referred to a tribunal for further proceedings.

Later, in view of the apology, the bench has dropped the proceedings. However, the CJP said that discharging the contempt case against Hashmi is not a license for others to utter unwarranted and disrespectful remarks against the courts.

"I, Muhammad Nehal Hashmi…do hereby respectfully submit that in a great respect of this court and leadership of legal fraternity I am highly regretful of unbecoming conduct and submit my unconditional apology and so place myself at the mercy of the court for forgiveness. It is, therefore, humbly prayed that my unconditional apology may very kindly be accepted and the proceedings of contempt of court initiated against me graciously be dropped," says the written apology.

On Monday, the SC had grilled Hashmi for abusing judges after his release from Adiala Jail. "How dare you abuse the apex court judges? We will not spare you," said CJP Nisar.

The chief justice also asked Hashmi if he would use the same language against himself. Footage of Hashmi making uncharitable comments about the judiciary was also played three to four times in the courtroom. Hashmi again threw himself on the court's mercy.