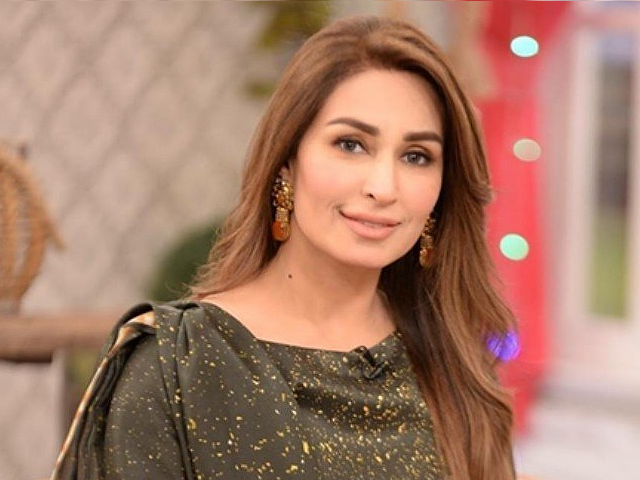 ---
 ISLAMABAD  : Reema Khan hails from a time when one needed actual talent to become famous – not just a fancy phone with a good selfie feature. As we sit down together in the wee hours of the night, the starlet has wrapped up her day and is now being her charming self. She speaks of how she has consciously risen above her stardom and tried to maintain the tranquility within her.

It's almost lyrical and I keep thinking of how good a poetess Reema would be. I had been feeling intimidated initially, but her amiable nature quickly turn our conversation into a gratifying experience.

With a filmography of about 200 films, Reema isn't proud of all that she's done but deliberately gave up the idea of quantity over quality. She also refused to go to India for work, despite being approached by the likes of Rakesh Roshan and Yash Chopra, even though that was the only option left to survive in cinemas here in Pakistan and she foresaw political extremists seeping into the trade of talent.




Mother to a 3-year-old son, who she says is having the time of his life with his grandmother in Lahore whilst she shoots for her comeback vehicle in Karachi, Reema hopes to show him some of her best motion-pictures. And her face lights up as she speaks about him.

The mega-star tied the knot in an arranged marriage to Dr Tariq Shahab five years ago, at a time when she was representing Pakistan at SAARC, as well as several multinational brands, earning a handsome amount on her own.

"It was difficult," Reema agrees, as I take her back to all that she left behind before moving to the US. "If any other girl had been in my place, I think she would've wanted to enjoy the stardom that she's achieved after years of hard-work, but I got married."

"I got married and established a strong footing there before I attended the Hum Awards and brought my husband along. I showed him the life that I had been living for over two decades before becoming a part of his family," Reema tells The Express Tribune, of her unexpected, yet welcome return last year.


PHOTO: PUBLICITY

"I told him that had the field been inappropriate, he wouldn't have married me because it's this very field that has groomed me and made me who I am. What's wrong with working in that very field again? I think with my character and principals, I won over my in-laws. I proved that there's nothing wrong about being in showbiz."

She continues, "From what my in-laws had read and seen of other actors and actresses, they didn't have a very positive perception. It was a challenge e to enlighten them and that took me some time. Sultana (Siddiqui) Aapa and HSY convinced my husband that they value my reputation as much as him because they've seen me grow. Thankfully, his opinion changed entirely and he let me take up some new projects."

As we speak of the stigma that's attached to showbiz, I bring up the fact that Reema is from an era where sexual misconduct was also prevalent within the industry. In the wake of Harvey Weinstein's case and the subsequent #MeToo campaign, one wonders how frequent it is in our part of the world, where the closely-knit industry is far more tight-lipped than one would expect. None of the industry bigwigs have had the Weinstein effect on them. In the times of social media, are we still afraid to uncover the truth?

"There's definitely more awareness and its given people the encouragement to share their sorrows and fears so that people from the next generation don't have to go through such things. I think there are very few people as fortunate as I have been," Reema responds, with utmost honesty.

"I started my career with director Javed Fazli, who guided me throughout. He told me never to visit anyone asking for work because I'd devalue myself that way. He told me to make my body of work so impressive that people come to me themselves and I'm able to choose on your own terms."

"But nobody forces you into anything. If you're being misused for that one chance, your consent is very much there. Maybe you don't know but nobody can take you to their room without your approval," continues the Love Mein Ghum star, adding that the casting couch is a two-way street.




"If you want to be an overnight success or part of some big project in exchange for your morals and respect, it's your own decision. Those who make these offers or exploit somebody's helplessness should be ashamed of themselves because God's always watching."

Reema quickly points out that the entire entertainment industry cannot be denounced just because of a handful of such people either for it paints Pakistan in a positive light.

"There are good and bad people everywhere. I think because of some people's 'activities', it makes the entire industry seem bad," she clarifies. "But there are some who are the epitome of respect. We tend to forget that this is the very same industry that's had the likes of Zeba Bakhtiar, Shamim Ara, Waheed Murad, Nadeem Baig and Shaan Shahid."

Nonetheless, Pakistani entertainment is surely advancing and Reema agrees. Having performed alongside current Lux-girl Mawra Hocane at the Lux Style Awards last year, I ask her what she thinks of the newer pool of stars?




"They're very talented, loving and confident but they didn't start their careers as teenagers (like I did). They started out after completing their education, have had personal ups and downs and are matured. They didn't have to struggle for a chance," she says.

"Now, just through social media, you can become very popular. In our times, we didn't have these facilities. We had to struggle to simply see our picture published in the papers. You were only invited to a channel once you had achieved something. There're so many opportunities and so much competition now that the quality has deteriorated somewhere."

But the actor remains fairly optimistic. "I know there're different kinds of highs and lows for every era but I have no reservations in saying that I see many popular faces but I don't see a single superstar. A superstar goes beyond social media."

So who does Reema blame for that? "I think everybody's a smart-aleck now and they've started thinking too much of themselves. With one project, they start thinking they've achieved everything that others dream of, but they don't realise it's only the first step," she advises. "An artist, after years and years of hard work, isn't satisfied. These people, after their very first project, are content. Everybody, from every class of society would watch our films. But take any of these new kids to Sahiwal or Gujranwala and I'm sure no one will recognise them."

Ironic as it may seem, Reema remains grounded because of her interaction with world-renowned figures like Bill Clinton, Angelina Jolie and Amitabh Bachchan, over the years. "You realise your purpose when you meet people who didn't let fame get to their heads," she shares of what's kept her rooted.




"I don't know how long I'll live but when I die, I won't have any burden on me. I do ask for forgiveness but I'm not scared of death. I know I'll live in the hearts of people and only a person who spreads ease and love can do that."

Coming back to Pakistan's lack of stars, one naturally holds the decline of cinema accountable. Reema calls out the fascination with large multiplexes at the cost of single-screen theatres and pinpoints the bizarre similarities between the content on TV and cinema. The unspoken rivalry between the industry moguls of Lahore and Karachi, too, Reema believes is one of the reasons behind the downfall of local cinema.

"Arnold Schwarzenegger and his on-screen daughter would survive in the very same helicopter where 200 people have died. Why don't we speak of that?" Reema says, drawing parallels with Hollywood as we speak of the bizarre action flicks from back in the day. "If the gandaasa-genre wasn't important, an educated film-maker like Bilal Lashari would not be remaking Maula Jatt today. Back in the 70s, after the authorities were given to the police during Zia-ul-Haq's time, a common man's voice was suppressed and films like Maula Jatt would stand up for their rights."




The stereotyping did, however, result in monotony and ultimately, the silver screen's doom. "I think our biggest mistake then was that all of us simply started following that with no innovation whatsoever," Reema notes, revealing that she rejected several advances for Punjabi films in the early 2000's after realising the tedious and increasingly queer scripts. "Like now, Indian cinema has no identity; they're simply copying Hollywood in all their productions. But because of the black-money in their industry, Bollywood has kept afloat. We don't have that."

As for her own craft, Reema's taken a backseat from acting and gone behind the camera to work on her third cinematic directorial. It is being penned by seasoned writer Khalil-ur-Rehman Qamar and narrates the journey of a married couple. The romance is currently being scripted, but unlike her first two ventures, Reema refuses to take the female lead in her own production.

"I think I wear all the tension on my face," she chuckles, adding she's now hunting for age-appropriate characters. "I don't look my age but that doesn't mean I've stopped growing," Reema jokes. "I think everywhere in the world, after you've crossed 40, there are different kinds of roles written for you. In Pakistan, instead of writing such roles, the actor is simply ostracised. I know I can't be dancing in saris now but with grace, you can still follow your dreams. It depends on your selection of projects."




That's what moved Reema to take up acting assignments on the small screen: the options were endless and the actor in her couldn't keep away from facing the camera too long. Currently shooting a serial called Ghum Hai Zindagi Tera Shukriya, she is also considering two more projects that will be produced under the banners of Faysal Quraishi and Momina Duraid, the latter's being a period drama.

"The drama I'm doing currently is being told completely from my character's perspective. It's about her struggles and how people respond when she falls sick. It's a positive change that female-oriented stories are also being preferred," says Reema. "It was my misfortune that when I started out, glamour was the only criteria. Before us, there were female-driven roles but because of the rise of Punjabi films, women were confined to a song and some dialogues. I was lucky to have gotten films like Zewar, Miss Istanbul and Nikkah, where there was margin to perform."

Have something to add to the story? Share it in the comments below.