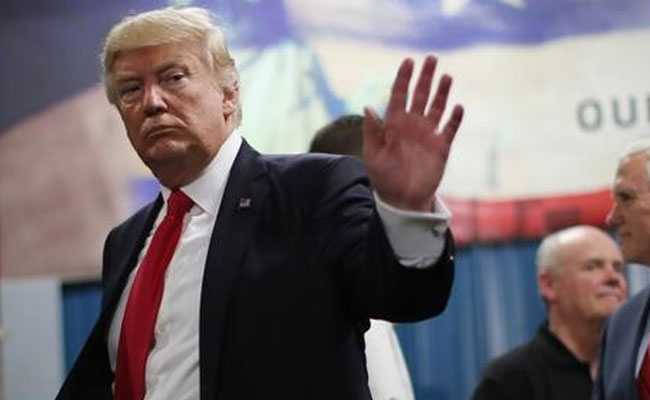 ---
WASHINGTON: U.S. President Donald Trump on Monday ordered the expulsion of 60 Russians from the United States and closed the Russian consulate in Seattle in response to a nerve agent attack earlier this month in Britain, senior U.S. officials said.

It was the toughest action that Trump has taken against Russia, and followed what one of the official called a "reckless attempt" by the Russian government on March 4 to attack former Russian spy Sergei Skripal and his daughter Yulia with a military-grade nerve agent.

The pair were found slumped on a bench in the southern English city of Salisbury and remain critically ill in hospital.


"To the Russian government we say: when you attack our friends, you will face serious consequences," a senior U.S. administration official told reporters, speaking on condition of anonymity.




Moscow has denied responsibility for the attack and has retaliated against Britain's expulsion of 23 Russians by ordering out the same number of Britons.




The Kremlin said ahead of the U.S. announcement that it would respond in kind.




The attack was the first known offensive use of a nerve toxin in Europe since World War Two, and European Union member states agreed on Friday to take additional measures against Russia. Germany, France, the Netherlands, Denmark, Poland, Latvia, Lithuania and Estonia announced expulsions of Russians on Monday.




The Seattle consulate in the West Coast state of Washington was selected for closure due to its proximity to a U.S. submarine base and to planemaker Boeing Co, the U.S. officials said.




Trump's order also included 12 Russians described by the U.S. officials as Russian intelligence officers from Russia's mission to the United Nations headquarters in New York and reflects U.S. concerns that Russian intelligence activities have been increasingly aggressive.




The U.S. officials said Russian diplomats have been abusing their diplomatic privileges in the United States and around the world.




"They hide behind the veneer of diplomatic immunity while actively engaging in intelligence operations that undermine the country in which they are hosted in a democracy they seek to minimize," an official said.




"With today's action, we are removing a large number of the unacceptably numerous Russian intelligence officers who abide in the United States," the official said.




Ukraine to expel 13 Russian diplomats




Ukraine is to expel 13 Russian diplomats as part of a coordinated effort by European nations and the US to punish Russia over an attack on a former Russian spy in England, President Petro Poroshenko said.




"In response to a cynical chemical attack in Salisbury, Ukraine, in the spirit of solidarity with our British partners and transatlantic allies and in coordination with EU countries, decided to expel 13 Russian diplomats from the few that remain (in Kiev)," Poroshenko posted on his Facebook page.




He said Ukraine's diplomatic relations with Russia had been "de facto frozen" since Russia annexed Crimea in 2014 and began to support separatists in country's east.




"The next step is to increase the price that Moscow has to pay for its international crimes, including the strengthening of personal, financial and economic sanctions," Poroshenko added.




Kiev and the West accuse Russia of deploying troops and arms to the rebels in the east and fuelling the armed conflict that has claimed more than 10,000 lives.




Currently there is no Russian ambassador in Ukraine.
Kiev also replaced its own ambassador to Moscow with a temporary representative.




Sergei Skripal, a former Russian officer who sold secrets to Britain and moved there in a 2010 spy swap, remains in critical condition along with his daughter, Yulia, after they were found unconscious on a park bench in the sleepy English city of Salisbury on March 4.
Britain says a military-grade nerve agent was used to poison them.




14 EU states expel Russian diplomats




Fourteen EU states are expelling Russian diplomats in a coordinated response to the nerve agent attack on a former spy in the British city of Salisbury, EU President Donald Tusk informed.




"As a direct follow-up to last week's European Council decision to react to Russia within a common framework, already today 14 member states have decided to expel Russian diplomats," Tusk told a news conference in Varna, Bulgaria.




Germany's foreign minister on Monday said Berlin had ordered the expulsion of four Russian diplomats over the poisoning of a former spy in England, as EU nations step up the pressure on Moscow.




"After the Salisbury poisoning Russia has still not helped clarify the situation. We did not take this decision lightly," foreign minister Heiko Maas said on Twitter.




The move comes as part of a coordinated effort by EU nations and the US to punish Russia over the brazen nerve agent attack on ex-spy Sergei Skripal and his daughter Yulia on March 4.




Canada expels four Russian diplomats
Canada ordered the expulsion of four Russian diplomats and denied credentials for three others over the poisoning of a former spy in Britain, said a statement.




"We are taking these measures in solidarity with the United Kingdom," Foreign Minister Chrystia Freeland said.




"The nerve agent attack in Salisbury, on the soil of Canada's close partner and ally, is a despicable, heinous and reckless act, potentially endangering the lives of hundreds."