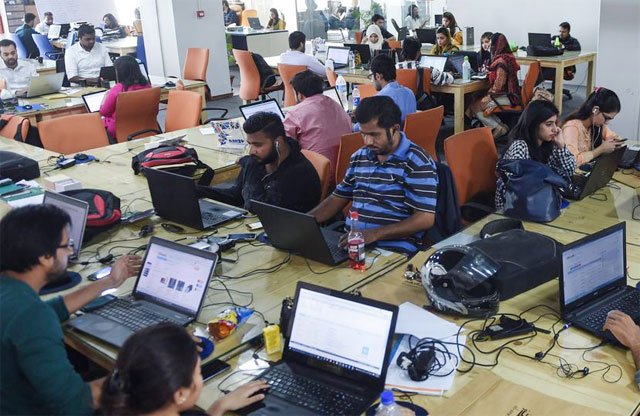 ---
Through this newspaper, I often highlight gaps in policies, institutions, and the state capacity that have been hindering economic growth and prosperity in the country. However, it is equally important to appreciate grassroots level developments being led by some young entrepreneurs, aspiring change agents, and a few public-sector officials. I will share some of the developments that are poised to shape emerging Pakistan.

During the last couple of months, I met many young entrepreneurs (and change agents who are supporting them) in Lahore, Karachi, and Islamabad. Some of them are working on cutting-edge technologies such as augmented reality and biomechanics, among others. Young entrepreneur Saad Idrees says proactive support of the provincial government of Punjab and the presence of local software houses in Lahore have helped young entrepreneurs to dream high and to utilise knowledge spillovers. Entrepreneurs in Karachi believe peace and stability is the key to encouraging youth to start business ventures. The recent initiative of ministry of information technology's IGNITE to establish National Incubation Centres (NICs) in Islamabad, Lahore, Karachi, Peshawar, and Quetta is providing learning, networking, mentoring, and financing opportunities to young entrepreneurs to refine and commercialise their ideas.

At the NIC Islamabad, I met Shahida Saleem, a social entrepreneur who is leading a collaboration of over 30 organisations to help many nascent social enterprises in Pakistan. She is supporting social enterprises to develop viable business models that can deliver products and services to the bottom of the pyramid population. I have yet not visited Peshawar to meet entrepreneurs, but I am hearing stories about some of the ventures exploiting the potential of genetic engineering.

CM inaugurates first-ever technical varsity in Lahore

Science and technology has not gained traction in our educational system at all levels. However, in the wake of recent efforts of some advocacy organisations and social entrepreneurs, some progress is underway. At the National University of Science and Technology, I have met the team of Oxbridge, a startup promoting innovative learning in science, technology, engineering, arts and mathematics in primary and secondary schools in Pakistan. On the higher education front, the University of Veterinary and Health Sciences has carried out research on two most dangerous diseases of livestock: foot and mouth and haemorrhagic septicemia. This research has helped to combine vaccines for both diseases that has reduced the frequency and cost of vaccination.

Moreover, the Department of Livestock of the Government of Punjab has supported the university to develop these vaccines at a large scale at the university instead of importing them. This development is poised to contribute towards health and productivity of livestock, generating multiple dividends for the economy.

On the public-sector front, the commerce ministry is developing a Strategic Trade Policy Framework 2018-2023 that aims to improve Pakistan's trade competitiveness. Many such policies generally remain redundant. However, we can see that for the first time the ministry's top leadership is carrying out inclusive consultation with all stakeholders. The ministry has succeeded to gain favourable treatment for Pakistan's exports to China and Indonesia. The new trade policy aims to enhance exports of technology and the services sector.

Regional Social Enterprise Diplomacy

Moving forward

The state and society need to recognise the entrepreneurial momentum in Pakistan and both need to come forward to help them innovate and commercialise their ideas. "The key areas that our industry needs to focus on for the next 5-10 years are Artificial Intelligence (AI), Cloud Computing, Big Data Analytics, Internet of Things (IoT) and Cybersecurity. As mainstream areas such as routine app and web development fade away, these new areas will provide the platform to benefit from the Fourth Industrial Revolution (4IR) in Pakistan", said Shehryar Hydri, Secretary General of the Pakistan Software Houses Association. Yusuf Hussain, CEO IGNITE, is supporting the innovation drive and advocating policy reforms to encourage startup financing, tax breaks, IPR protection, improvements in insolvency regime and international payment facilitation in order to exploit the potential of the fourth industrial revolution.

On the trade policy front, the real issue is the non-responsiveness of other ministries/organisations such as the Federal Board of Revenue (FBR) in implementing policy. The FBR and other provincial revenue authorities are solely focused on revenue generation without due consideration to support economic growth. I have earlier highlighted that there should be one central policy to support the private sector instead of devising multiple policies, e.g., investment policy, industrial policy, textile policy among others. The trade policy framework being designed now should be declared a cornerstone of private sector development efforts in the country and other policies, including fiscal and monetary policies, should be aligned with it.

The education of science, technology, and mathematics needs to be improved at all levels. Our business community has actively been advocating economic and policy reforms in the country. It is high time they also developed a National Science Agenda for aligning public sector investment on science and technology and the needs of business community and society at large.

Lastly, there is a need to transform the bureaucracy to understand the new dynamics both globally and locally. The bureaucracy needs to realise the importance of supporting startups, social innovation, and science and technology initiatives. Nothing has happened on this front! Recruitment, training, postings, and career progression systems need to be aligned with overall goal of improvement in the competitiveness of the country. No country in the world has developed without bureaucratic improvements! Institutional reform is the buzzword now, but these reforms cannot sustain without the transformation of bureaucracy.

Published in The Express Tribune, March 24th, 2018.

Like Opinion & Editorial on Facebook, follow @ETOpEd on Twitter to receive all updates on all our daily pieces.
COMMENTS (2)
Comments are moderated and generally will be posted if they are on-topic and not abusive.
For more information, please see our Comments FAQ