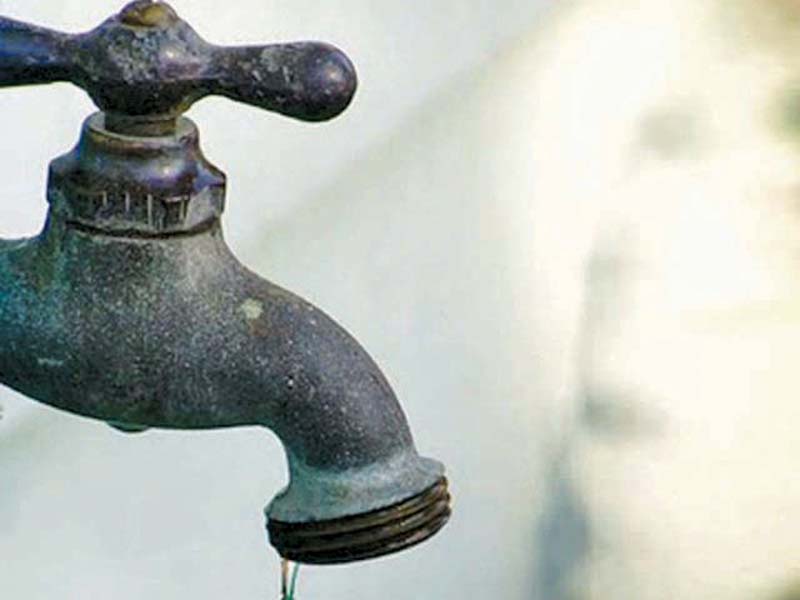 ---
KARACHI: Pakistan ranks third amongst countries facing water shortages, according to an International Monetary Fund (IMF) report.

An important reason behind this is the excessive use of water without any mechanism to save it. There is a dire need to divide water into parts the way developed countries have mechanised their system. One part should be of clean water, which should be utilised for drinking and cooking, while the other part should be used for polluted or dirty water, which should be used for household needs.

These views were expressed by the organisers of an awareness seminar on World Water Day held at the Federal Urdu University of Arts, Science and Technology's department of geology. Chairperson of the geology department, Seema Naz Siddiqui, said that climate change climate, poor strategy of government institutions, the policies of neighbouring countries and poor distribution of water within the country are reasons behind the escalating water crisis and, if the situation persists, there will be no or very little clean water available in Pakistan by 2025.

Retired professor from the University of Karachi, Professor Dr Waqar Hussain, LUMS Professor Dr Mehmood Ahmed, Dadabhoy Institute Rector Dr Shahana Urooj Kazmi, Professor from KU's environment science department Dr Amir Alamgir, Dr Mirza Naseer Ahmed Murad from Abdul Salam University, Faisalabad, Mehran University professor Dr Ahsan Siddiqui, programme organiser Sohail Anjum and Sheela Bano addressed the seminar. Irfan Abbasi, Dr Ghirlandaio Murtaza, Dr Mehmood Ahmed and Dr Syed Baseer Hassan took part in the panel discussion. Student adviser Muhammad Afzal, Taji Shah, Shahid Anwar, Dr Umme Hani, Dr Adnan Khan, teachers and students participated in the seminar.

World Water Day: Country needs more dams

Addressing the seminar, Dr Hussain said that water affects the economy of developing countries and Pakistan is an agricultural country which needs a huge reserve of water. He lamented that people do not even have clean drinking water available to them. Dr Kazmi said that not only do several people in Pakistan die after consuming polluted water, they also contract diseases such as cancer, hepatitis A, B and C, typhoid and diarrhoea, as well as teeth and bones diseases.

Water serves as an engine for metabolism. Provision of clean drinking water to people is a basic human right. Dr Mehmood Ahmed said that only 2.5% of the world's water is pure while 97.5% is salty water. Glaciers are melting fast due to which astonishing climate changes are taking place in the world. A mechanism to save water has not yet been determined in Pakistan, due to which the water gained through natural resources gets wasted, which is one of the major issues in Pakistan, explained Dr Ahmed.

Dr Siddiqui said that globally 14 billion gallons of water are dumped into the sea and annually around 1.8 million people die due to consuming polluted water. According to UNICEF's report, clean drinking water is not available to 50% of schools and school-going children.

Globally 5,000 children die of diseases after consuming impure drinking water. In Pakistan, clean drinking water is available to only 30% of the population.

People should take care of the cleanliness of water tanks in their homes and should avoid excessive use of water. Dr Siddiqui said that 81% of water in Sindh is undrinkable.

The water of  the Indus River is the best drinking water, according to the World Health Organisation (WHO) but we have been destroying it, he said.

Dr Ahmed said that if we do not use water carefully, not only will the availability of agricultural products be affected but we will also be deprived of drinking water.

Not even one sewerage water treatment plant is working in Sindh and as a result, polluted water is being dumped in canals, rivers and the sea, which is destroying the environment rapidly, he lamented.

Anjum, thanked the participants of the seminar. After the seminar concluded, shields were distributed to participants. An awareness walk was also held to the Abdul Qadeer Auditorium from the administration block.
COMMENTS
Comments are moderated and generally will be posted if they are on-topic and not abusive.
For more information, please see our Comments FAQ