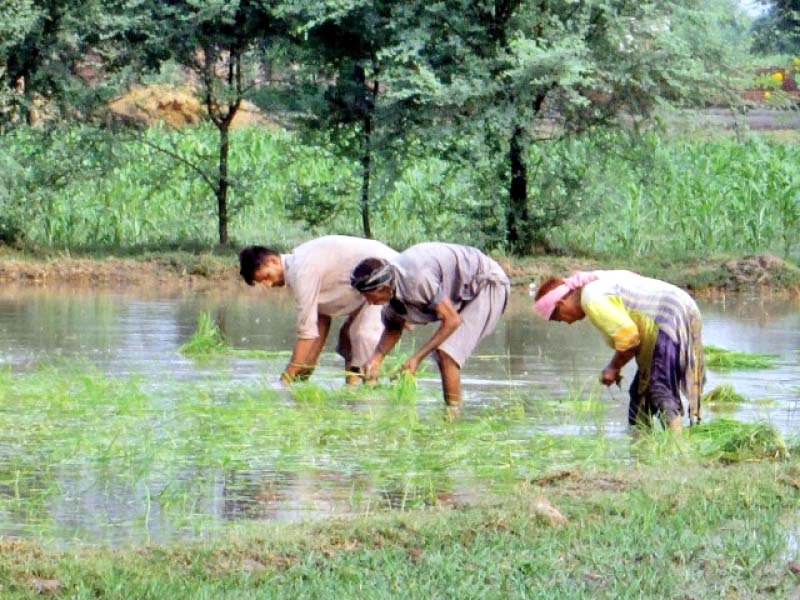 ---
ISLAMABAD: The Indus River System Authority (Irsa) projected on Thursday higher water shortages that would pose a serious threat to critical Kharif crops which required a steady flow of irrigation water.

Rice, sugarcane, cotton and maize are some of the important crops of the Kharif sowing season that runs from April 1 to September 30.

The projection was made in a meeting of the Irsa technical committee held under the chairmanship of Director (Operations) Khalid Rana and attended by representatives of the Water and Power Development Authority (Wapda) and all provinces.

Committee members were of the view that water inflow into rivers would be around 95 million acre feet (maf) during the Kharif season, down 11.2% compared to inflow of 107 maf last year. Average inflow into rivers is estimated at 112 maf.

The Irsa advisory committee will finalise the figures of water availability on March 29. It was informed during the meeting that water loss on the Indus River was estimated at 40% and Jhelum and Chenab rivers at 5%.

However, a representative of Punjab objected to the high loss estimates and suggested that the loss would be 20%.

Initial analysis put water loss at 30-40% for early Kharif and 5-10% for late Kharif. However, the figures will be finalised after the advisory committee meeting later this month. The Meteorological Department has predicted less rainfall in early Kharif, but normal showers during monsoon.

According to a report prepared by Wapda, water inflow into the Indus River at Tarbela was 17,000 cusecs and outflow was the same 17,000 cusecs. Inflow into the Kabul River at Nowshera was 7,500 cusecs and outflow was also 7,500 cusecs.

Inflow into the Jhelum River at Mangla was estimated at 12,500 cusecs and outflow at 13,700 cusecs whereas inflow into the Chenab River at Marala stood at 7,200 cusecs and outflow at 2,000 cusecs.

Inflow into the Jinnah Barrage was recorded at 32,300 cusecs and outflow at 33,000 cusecs whereas inflow at Chashma was 24,900 cusecs and outflow was 23,000 cusecs.

At Taunsa, the inflow was calculated at 23,200 cusecs and outflow at 21,200 cusecs whereas at Panjnad the inflow was 200 cusecs and outflow was zero.

Inflow into Guddu was 16,000 cusecs and outflow was 13,100 cusecs, at Sukkur the inflow was 13,100 cusecs whereas outflow was 4,300 cusecs. At Kotri, the inflow was recorded at 3,000 cusecs and outflow was zero.

At Tarbela Dam, the water level was calculated at 1,386 feet whereas its maximum conservation level was 1,550 feet and live storage was zero on Thursday. At Mangla Dam, the water level was 1,050 feet, though its maximum conservation level was 1,242 feet and live storage was 0.033 feet.

At Chashma, the water level was 649 feet which was its maximum conservation level whereas live storage was 0.068 feet.

Published in The Express Tribune, March 23rd, 2018.

Like Business on Facebook, follow @TribuneBiz on Twitter to stay informed and join in the conversation.
COMMENTS
Comments are moderated and generally will be posted if they are on-topic and not abusive.
For more information, please see our Comments FAQ