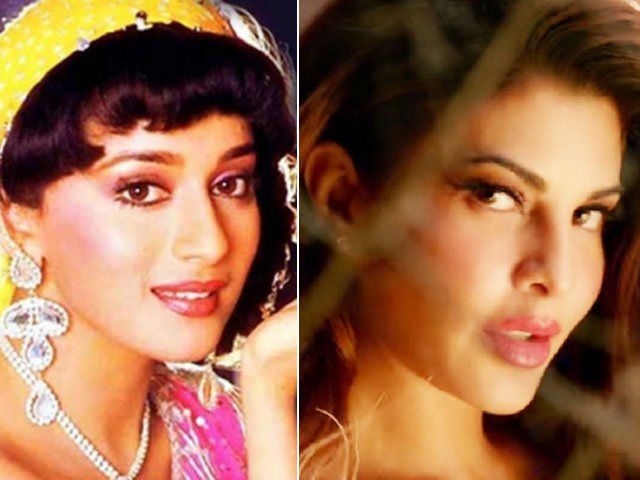 ---
MUMBAI: Let's not mince our words. Jacqueline Fernandez is a very beautiful girl. But she's no Madhuri Dixit. No one could ever be Madhuri Dixit. Not by a long, long shot.

When Madhuri dances, the world stands still. One cannot help but stare at how those graceful movements are flowing out of such diminutive limbs.

Although the legendary star has many iconic dance songs to her credit, Ek Do Teen from the 1988 hit Tezaab is the ultimate item number. It arguably launched the young Madhuri's career, as she strutted her stuff clad in a fluorescent pink, one-shoulder outfit that became the envy of every 20-something girl back then.


Fast forward 30 years and we've got Jacqueline, whose repertoire and range of facial expressions ranges from A to B, as opposed to Madhuri's A to Z. The Houseful starlet has just released the video for a "remake" of the original Ek Do Teen, dressed like Madhuri albeit with a choli a lot skimpier than the former's.

Unfortunately, the choli is literally the only thing that you'll take proper notice of in the entire song. Or maybe how skinny Jacqueline has become over time. But that's not the point. The point is that she doesnt have even a little bit of Madhuri's bridled comehither-ness to offer in this act of brazen seduction.

This is perhaps the millennial Ek Do Teen. The item girl comes on stage, slips off her jacket to reveal a barely-there top (the outfit changes at least three times in the two-minute video) and launches into a convulsive jig as though to say, "Madhuri was yesterday's. I am today's!"




But sadly, she fails to become much of an 'item.' And the internet agrees!


The reason why original #EkDoTeen is such an iconic song is because the woman is seen being more than an object of desire. Madhuri dances beautifully in a quirky and fun way not trying to please anyone. The newer version does the exact opposite 🤦🏻‍♀️

— lost soul (@theClaiire) March 19, 2018
Jacqueline starring in Ek Do Teen's remake as Mohini is unacceptable. Madhuri Dixit and the song is a classic. Bollywood needs to stop making remakes and ruin older songs.

— 🌻 (@hii_nal) March 16, 2018
If you still do not appreciate the level of artistry Madhuri Dixit delivered through her dance numbers and the delicate balance she struck in the more sensual ones, I hope you'll realize it after watching the new Ek Do Teen.

— Kowshik (@kowshik4mBD) March 19, 2018


https://twitter.com/pramodbagade1/status/974538821831290880


If I had any awards to give back, I would to do so to protest the Ek Do Teen remix.

— Arnab Ray (@greatbong) March 20, 2018


https://twitter.com/SanbirKapoor/status/975611553193119745

https://twitter.com/shreyaa1526/status/975689190305251328

What makes things worse is that Jacqueline isn't as talented a dancer as most of her Bollywood contemporaries, Madhuri the lease of all. Tragically, her movements convey not even an iota of Madhuri's fluid grace.

Now, no other actress would seriously try to re-do Sridevi's Hawa Hawaai. But a faithful replica of Ek Do Teen? You can't be serious!

Have something to add to the story? Share it in the comments below. 
COMMENTS (1)
Comments are moderated and generally will be posted if they are on-topic and not abusive.
For more information, please see our Comments FAQ