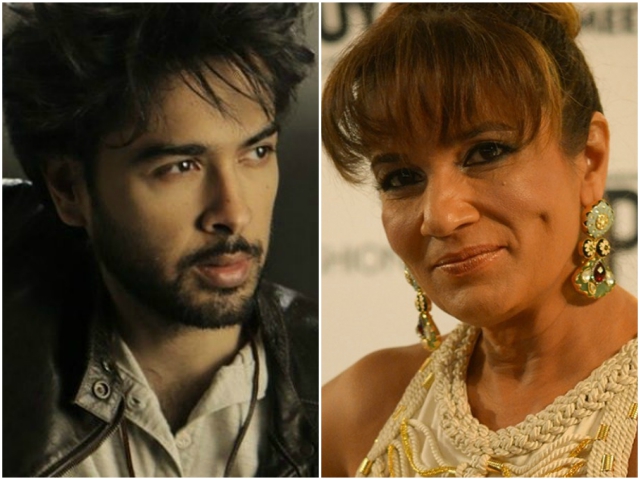 ---
ISLAMABAD: Last year was a definitive one for women - where equal opportunities, rights and emoluments were openly addressed. In our part of the world too, social evils have been highlighted but what former model Frieha Altaf has been able to achieve is put influencers in popular culture under one umbrella to collectively fight injustices. Joining forces with Shehzad Roy, who's been on the forefront of activism for a decade now, a rendition of the seasoned musician's track, that came out yesterday, is aiming at poignantly moving the audiences for despotism.

The pertinence of the matter is rooted to gender inequality that results in the prejudice of women being inferior on the basis of their genitals. To Frieha, the suppression of female voice has launched worsened cruelties. "We live in a patriarchal society where everything revolves around men. It puts a lot of pressure on men as well and it's unfair to them," she begins. "It's so deeply engrained in our society to accept depression, go through a troubled marriage for your children, but what you're doing them is teaching them that it's acceptable."




"Now, because of what's happened in the West, it's having an affect here; the world is global and it's no longer isolated. India has opened up to rape, caste system, skin-colour complexities but in our country, if there's no education, there can be no change," she accurately suggested.

Frieha added, "There are so many issues embedded in our society, beginning with food and shelter, only that #MeinBhi is an idea to not only include victims or survivors but say that I am part of a movement that will try to put a stop to injustices."

The realisation stemmed from years of domestic violence, reveals the PR mogul. "In 1999, when I got my divorce, I realised what was going on in my life and how abusive relationships were a result of something I never acknowledged. I didn't understand how somebody as strong as me could tolerate being controlled," she shared. "At that moment, I started seeing a lawyer, who gave me strength."

She continued, "I had seen and read enough to know that I had to take stock and not allow myself to continuously be abused. I've gone through it all. I've been through marriages, I've been abandoned, I've been stood up at my wedding and I've been cheated on but I got the courage to fix it and get out of it."




In the wake of #MeToo in Hollywood that primarily demonstrated the widespread prevalence of sexual assault and harassment in the workplace, and the brutal rape and murder of 7-year-old Zainab Amin in Kasur, Frieha's #MeinBhi has had a number of public happenings, but took centre stage at the Lux Style Awards (LSA) this year.

It raised PKR 1 million for sexual child abuse at American DJ, Diplo and his band, Major Lazer's Mad Decent Block Party in Islamabad. Frieha also flew Ahsan and Ali Xeeshan to Los Angeles, California for a fundraising fashion show with Calpak.

What went down at Lux Style Awards 2018

The campaign itself, however, initiated when Frieha tweeted out her barbaric account of sexual child abuse at the hands of her cook. "It took me 28-years to even tell my sister. My parents took action, they deported that man but they never went to counseling, even for themselves, or speak about it.

After Nadia Jamil tweeted about her experience, I had already discussed it with some of my friends and I didn't want to leave her alone," the PR maven observed.




"I reached out to some people like Sherry Rehman and Ahsan. Maheen Khan called me herself and told me she feels very strongly about it. She also told me it's happened to her as well," she added of how her groundbreaking tweet came about.

Speaking of the day she publicly shared her story, Frieha said, "When a 73-year-old woman tells you that, it shakes you to the core. I went over to her place and posted my story that evening. A lot of celebrities started calling me and shared what they went through too. The next day, it had completely exploded, and Maheen and I kept coordinating because we didn't expect it."

Known for philanthropist work as much as he's known for his musical prowess, the force behind the track Mein Bhi and its original soloist, Shehzad Roy also spoke with The Express Tribune from the UN Headquarters in Vienna, where he is currently representing Pakistan at a forum to discuss Drug Abuse & Crime. His track, Kya Darta Hai has been recreated as the movement's anthem with 36-vocalists including Aima Baig, Zoe and Rachel Vicaji, Sanam Marvi, Lyari Underground, Badnaam and Pindi Boys, and a 40-piece orchestra. For him, the entire credit goes to Frieha.




"It's Frieha's brainchild, completely. It's a lot easier to make a song or speak of a reform, or even fight the authorities but when women like Frieha come forward to speak about themselves, it breaks the psychological barriers," Shehzad voiced on his involvement with the #MeinBhi movement.

"The impact this would have is unparalleled; it gives others courage. I'm very grateful to her because there was already a call-two-action, but now, it will be able to reach democracy and it will push the government," he added.

The Hollay Hollay singer says his communal awakening came about half a decade ago, when the law permitted teachers to hit students in 'good-faith'. That's when Shehzad first asserted physical child abuse and prevented the case study of the law on his documentary show, Chal Para. It was due to his dissent that Shehzad joined the officials at the National Assembly in 2012 to changing the law, stating the reprimanding of teachers.

Continuing his humanitarian efforts to a seemingly more tabooed subject, in 2010, Shehzad introduced the LSB (Life-Skills Based Education) curriculum in two government schools. Whilst it sparked controversy as many began labelling it as 'sex education', it truly speaks of danger, safety and expression of confrontation for children.

Fighting against all odds, 200 government schools today have picked up the reform and post the Zainab case, Bilawal Bhutto has made the content compulsory in all of academic institutions of Sindh.




"I think that's something even private schools haven't been able to introduce anywhere because parents view it as gandi baat (inappropriate). There's this communication barrier that allows sexual abuse to continue, parents themselves don't want to have that conversation with their children," he noted.

"I think I have a natural alliance with this predicament because I've been working towards removing it for a decade now, so when Frieha approached me for LSA, I couldn't go there because I was performing at PSL in Dubai but we recorded the song and now it's released with a video."

Musically, Shehzad feels that it was after his album, Qismat Apney Haath Main in 2008 that his music too became socially relevant and entered mainstream with a welcome response. "I think all my music before that was very romantic but my work otherwise was always very political. It was after turning around the government school and the album that it felt like turning around a mini-Pakistan. It influenced my sound and songwriting, and I began working towards more socio-political music," he opined.

"It was very interesting because I was able to sing what I was working towards. It was the best spot for me to be in to fuse the two together. It was a dream come true to speak through music and people listened too. That's why I try to make it entertaining as well."




His takeaway from #MeinBhi however, would be to further include his LSB syllabus to schools nationwide. "For me, I hope schools that haven't taken up the LSB curriculum will and it would build more pressure on them. It's the only way we will be able to save countless children," the singer concluded.

Frieha's next endeavour for the movement is to arrange a concert that raises funds for multiple organisations to fight child labour, including Ansar Burnley's attempt of eradicating human trafficking, Mukhtara Mai's school and women's shelter, Musaarat Misbah's empowerment of acid-burnt victims, minority-conversions and transgender rights.

She hopes that every public figure, particularly actors and musicians pick up a charity and cause each to use their following and popularity for good, and join her in what hopefully would turn out to be revolutionary.

Have something to add to the story? Share it in the comments below.
COMMENTS
Comments are moderated and generally will be posted if they are on-topic and not abusive.
For more information, please see our Comments FAQ