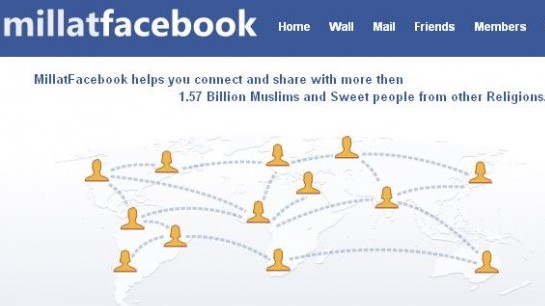 ---
KARACHI: It would not be fair to say that MillatFacebook is a Facebook clone, not because it doesn't aim to be, but rather because the quality of user experience is so abysmal that it does not merit the humble title, "Facebook clone".

The basics

The website is new, so naturally it does not have a large member base despite the nationwide ban on Facebook. At the writing of this review, around 3,900 members have signed up so far. The website contains a little more than 1,100 photos, eight blogs and 23 polls.

Another point of interest is the terms to be a member of the website. Usually the terms section of any professional social networking site is so long that you simply scroll down and click the "I have read and agree" tab without actually going through the details. But MillatFacebook does not pose that problem. Here are the terms:

Only Terms of using this website are:

1) You must respect Humanity
2) You must respect Believes of all People
3) No Disrespect to anyone

"We are Listening you carefully"

The process of creating an account is very simple. Name, user name, email, password and gender. And you don't have to worry about unavailability of usernames as there are only around 4,000 members yet.

Once you log in, you are welcomed by the hospitable phrase, "We are Listening you carefully." What user would not be glad to know that? For the more paranoid of us, it is a subtle reminder that big brother is indeed watching you as you attempt to stalk your favourite MillatFacebook profile, while for those in a more positive frame of mind, it suggests an eager team of professionals hard at work on the site. Or are they?

Style guide anyone?

Perhaps this is a trivial observation but it seems a bit strange when different spellings of the same name appear in one paragraph e.g. some lines from the about us section of the site read:

"We love Peace and Happiness but not at cost of our BELOVED PROPHET MUHAMMAD (SALLALAH-O-ALIHI WASSALAM)."

"As all of us know that Facebook held a competition of caricatures of Prophet Muhammad (PBUH).This event is basically a so-called contest for Prophet Mohammad's drawings (Sallallahu Alayhi Wa-aal-hi-Wasallam)."

New features?

There are some features on MillatFacebook that make it different from its partial namesake.

There is the "featured members" tab, which unfortunately appears to do nothing when clicked.

There is also the "top rated members", a feature that Facebook does not have, but which is remarkably similar to a website that people in Pakistan had abandoned years ago – Orkut.

This not the only thing the website shares with Orkut. There is also a feature that gives you the list of people who have viewed your profile recently.

Of course there are some other features which may not be as useful, but certainly are interesting.

For instance, MillatFacebook tells you how long you have been a member on the site, which is useful for easily sifting out the noobs from the hardened MillatFacebook users.

There is also an application called Photo Battle, where you can view random photos uploaded by other members and decide which ones you like.

To sum up, MillatFacebook is a bold effort only recently inaugurated by The Lahore High Court Bar Association (LHCBA), but it is unlikely to capture a large audience, judging by the online experience it offers currently.

And for all those who are labeling this potent "threat to Facebook" as a rip-off, the team at MillatFacebook has a ready reply:

"if we can make a copy of Facebook.com then we can also make a new social website as making any website is not a problem for us we have been doing this for the last 10 years as website developers but that would not be warning to Facebook.com."
COMMENTS (128)
Comments are moderated and generally will be posted if they are on-topic and not abusive.
For more information, please see our Comments FAQ