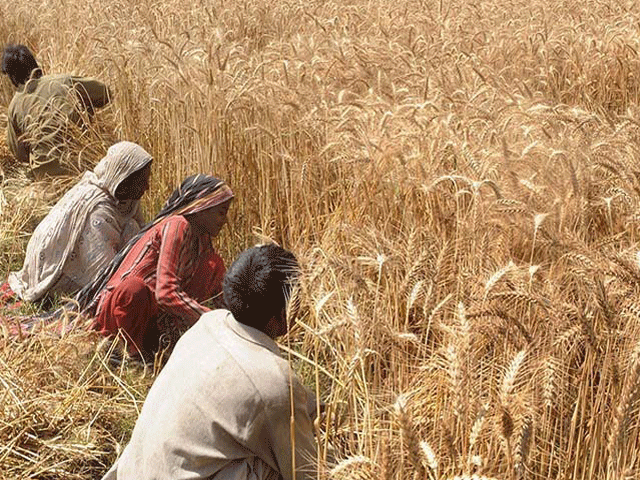 ---
ISLAMABAD: In Pakistan, agriculture production challenges primarily stem from environmental and climate-induced disasters.

Pakistan's economy faced 133 natural disasters since 1995 to 2015, which caused losses of $38.23 billion to the national economy.

About 36 districts of the country are highly vulnerable to risks posed by natural disasters, 68 have medium vulnerability and 52 have low vulnerability against floods and droughts combined.

Along with the threat and disasters caused by climate change, farmers are facing issues of salinity, water scarcity and decreasing groundwater levels which slash their income from crop harvests. Such issues have made it more difficult for them to repay their debt.

With the growing challenges, the demand for agriculture credit from the farmers has gone up in an attempt to improve their harvests. Provision of credit to the agriculture sector reached Rs704.5 billion in fiscal year 2016-17, up 17.8% compared to the previous year.

However, some loopholes have been found in the credit policy, especially in the Crop Loan Insurance Scheme (CLIS).

Sargodha district, which is well known for the production of kinnow, sugarcane and bamboo, is facing the threat of climate change and flooding. Hundreds of villages in the district had been hurt by flooding in Chenab and Jhelum Rivers in 2014.

According to the annual flood report, Sargodha also faced damages from the flood protection structures in 2016. Among credit policies, the CLIS is a unique scheme launched in 2008. It provides credit for five major crops, namely, wheat, rice, sugarcane, cotton and maize. This is accompanied with insurance against natural disasters like flood, drought, hailstorm, pest attack and fire damage.

With support of the government, the insurance premium is subsidised for subsistence farmers, defined as those having up to 25 acres of land for cultivation. However, inefficiencies in the scheme were highlighted by the farmers during a survey conducted in the flood-prone tehsils of Sargodha.

Majority of the farmers have avoided taking formal credit because of their own savings and easy access to loans from informal sources. Some farmers are interested in insurance policy alone, but CLIS offers crop insurance to only those that borrow from banks.

Finally, some of them do not consider insurance policy to be in line with Islamic principles.

Farmers say borrowing from informal sources like individual lenders in their areas is easy and quick. They do not even face any difficulty in paying back the loans as these are mostly interest-free.

Policy drawbacks

Highlighting the inefficiencies in the formal insurance policy, they point to the late declaration of calamity by the government as a major issue. After that, the bank or insurance company concerned sends their representative or an independent consultant to assess the loss. This causes a delay of around six months.

Owing to the delay, the assessment of field losses is not accurate. The assessors, most of the time, rely on prediction rather than actual data. After the assessment, slow disbursement of insurance claims takes at least another month.

These drawbacks force the farmers to borrow from informal sources for planting their next crop.

The money paid in insurance claims is also meagre that neither covers the loss nor the input cost. Moreover, political influence is another hidden factor found during consultation with the farmers as such influences play a role in whether or not a village should be declared calamity-stricken. Apart from these, absence of political support leads to negligence of villages that are severely affected by disasters but are never declared calamity-hit.

Farmers also complain about lower resilience against natural disasters and climate change, which is the outcome of a lack of proper guidance by agriculture extension officers and ineffective early warning system.

How to improve things

Though the benefits of CLIS cannot be denied, there is always room for improvement. Suggestions given by the farmers can provide useful input for the policymakers and economists and help the growers to cope with multiple challenges. In order to bring improvement, the farmers recommend effective assessment of individual loss, quick settlement of insurance claims, increase in the amount of claims and giving cover to horticulture as well, especially oranges orchards and vegetable crops.

While Sargodha produces 90% of oranges in the country and generates millions of dollars from exports, the government should also consider including excessive or erratic rains, hailstorms and pest attacks along with floods in CLIS.

One of the key suggestions is to provide crop insurance without linking it with formal credit at least in major growing areas. The current CLIS mechanism depends on damage-based insurance, but it can be improved by developing a weather or yield-based index.

Such agriculture credit policies are successfully functioning in neighbouring countries such as India. They will help speed up the process of effective and individual loss assessment to clear the way for releasing claims before the start of plantations in the next season.

Such changes will bolster farmers and help them achieve sustainable agriculture growth including citrus production in Sargodha.

The writer is a research assistant at the Sustainable Development Policy Institute, Islamabad





Published in The Express Tribune, March 12th, 2018.

Like Business on Facebook, follow @TribuneBiz on Twitter to stay informed and join in the conversation.
COMMENTS
Comments are moderated and generally will be posted if they are on-topic and not abusive.
For more information, please see our Comments FAQ