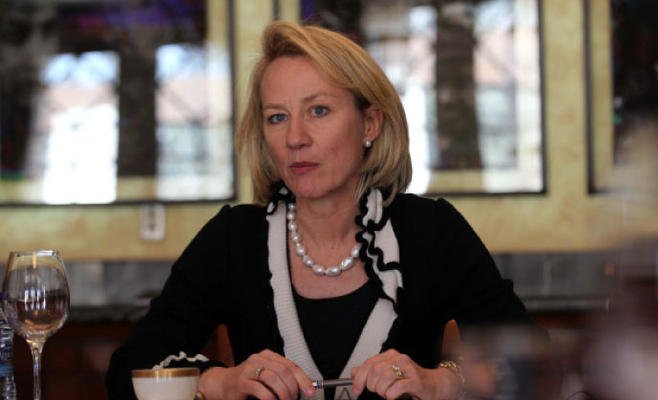 ---
A senior US diplomat has said that the United States believes Pakistan can play a much more important role in shaping the Afghan Taliban's behaviour.

The statement was made by Alice Wells, principal deputy assistant Secretary of State for South and Central Asia, during a session on Afghanistan and Kabul Peace Process at the US Institute of Peace in Washington, DC on Friday.

She stressed on Islamabad's critical role to provide incentives to the Afghan Taliban for undertaking negotiations with the Ashraf Ghani government.

"Pakistan has interests that it also wants to ensure are met during the course of stabilisation of Afghanistan which we take seriously," she told the audience. "So the dialogue we have with Pakistan whether it's through military or civilian channels seeks to address these core concerns."

UNGA committee: Pakistan 'has turned tide against terrorism'

Wells said the Trump administration had calibrated a very different relationship with Islamabad than other administrations.  "We have gone much further in underscoring the importance and the centrality of this issue in our ability to expand relations with Pakistan."

She added: "You see an intensive dialogue by General Votel with his counterpart [Chief of Army Staff (COAS) General Qamar Javed Bajwa]."

Noting that Washington had not seen the "sustained and decisive steps" it sought from Islamabad, she added that "positive measures" had been adopted over the last couple of months.

Responding to a question on the Taliban planning their Spring Offensive from Pakistani territory, Wells said the US would like "steps taken that make it harder for the Afghan Taliban to plan for Spring Offensive to disrupt their ability to meet and to lay out this operational plan for the next year".

While the senior US official highlighted New Delhi's efforts to stablise Afghanistan through investment in development projects, she stressed that it did not mean that America would support or let India manipulate the Afghanistan issue to be used against Pakistan.

"We firmly support Pakistan's territorial integrity," Wells said, adding, "We do not support Baloch insurgents or the use or the threat of irredentism against Pakistan."

Wells went on to say that the US will oppose terrorist threats against all countries in the region. "We oppose groups that are targeting Pakistan," she remarked, citing the recent rewards issued by the Trump administration on three Tehreek-e-Taliban Pakistan (TTP) leaders including its chief Mullah Fazlullah.

The US envoy also deliberated over China's role in stabilising Afghanistan. "We have overlapping interests in Afghanistan," she said. "We both want to see a stable Afghanistan that does not tolerate and is able to prevent presence of terrorists."

She observed that China was also an "important part of the geopolitical puzzle on Pakistan".

US threatens to unveil anti-Pakistan actions

Speaking on the Islamic State threat in Afghanistan, Wells revealed the US  was "disturbed by some countries justification of the Taliban as a fighting force against the Islamic State - Khorasan".

"I think we see a tendency to exaggerate the IS-Khorasan threat as a pretext to almost justify a hedging behavior."

She said the only way to defeat IS is to defeat Afghan Taliban and strengthen the Afghan government. However when a member of the audience pointed out that the dialogue process would be futile if the US wanted to defeat the Afghan Taliban, she rephrased her statement, saying the military pressure on the Afghan Taliban should not be lessened due to IS.

Watch the talk here:


COMMENTS
Comments are moderated and generally will be posted if they are on-topic and not abusive.
For more information, please see our Comments FAQ