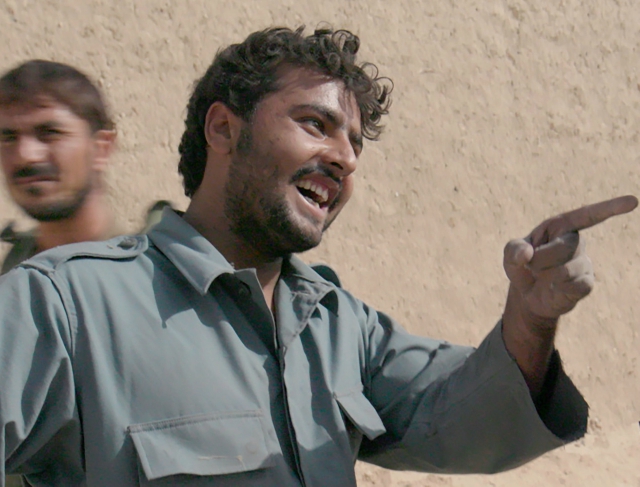 ---
Bahadur Agha, a bomb disposal technician wounded six times by the Taliban, joked the seventh would be his last. He was right: after dismantling hundreds of IEDs barehanded, this Afghan hero died defusing one final device.

Crawling along the ground ahead of Afghan military convoys, the 31-year-old policeman saved countless lives in southern Helmand province, defusing landmines and improvised explosive devices (IEDs) without a face shield, helmet, body armour or gloves.

With nothing to protect his body, Bahadur knew that one wrong move could be his last. But he had apparently accepted the poor odds for survival.

"Six times I've been injured, seventh time maybe I'll be finished," he told VICE News reporter Ben Anderson in October 2016, smiling at the camera.

Last December the fateful moment came.

Four decades of war have left Afghanistan as one of the most mined countries in the world.

Figures from the United Nations show that IEDs killed more than 600 civilians across the country last year, including more than 100 in Helmand alone -- among them, Bahadur.






His brother-in-law Ahmad Shah Zaland said the Taliban had begun laying two mines instead of one: when the first is deactivated, the second explodes. "The second mine... took Bahadur away from us," he told AFP.

Given the security situation in Helmand, news of his death did not become widely known until last month.

Relatives and colleagues described a patriotic, skilled man driven by grief and rage over the death of family members, including his mother, at the hands of the Taliban.

In the VICE documentary, he told Anderson that "my family is finished, everything is finished".

"Maybe I die, no problem," he said.

Anderson, who shared news of Bahadur's death on Twitter, said he had watched the policeman ignore gunfire as he crawled on the ground to defuse IEDs hidden in the middle of the road, clearing a path for the soldiers sheltering in armoured vehicles behind him.

"We were getting shot at but he didn't care. Everyone else took cover, he stood up and walked around," Anderson told AFP.

"He said he didn't care if he lived or died, he just wanted to kill the Taliban. And it was obvious this was true, he was totally traumatised.

"He should have been taken off the battlefield long ago... although he probably would have refused to leave."






Bahadur, who joined the police aged 15, had shown Anderson the physical scars left by bullet and shrapnel wounds he had received during mine-clearing operations.

"One had entered his forehead but not touched his brain," Anderson said.

Former colleagues in Helmand, the restive poppy-growing province still largely controlled by the Taliban more than 16 years after the US-led invasion of Afghanistan, said he lived up to his name -- Bahadur, which in Pashto means "the brave" or "the hero".

"When it was complicated, it was always Bahadur who did it," one colleague, Haibatullah, told AFP, before adding bitterly: "The government does not care about our lives."

Bahadur's commander Ghulam Dawood Tarakhail recalled a "brave and patriotic officer" who "defused hundreds of roadside bombs or landmines".

"Bahadur was a skilled and professional deminer," Tarakhail told AFP, adding that just three weeks before he died Bahadur was awarded a medal for his service.

Despite his sacrifice, Bahadur's untimely death has gone largely unnoticed in the war-torn country that has been numbed by the relentless and bloody violence.

Three K-P sisters make it to bomb disposal squad

Thousands of troops and police have been killed or wounded in the grinding conflict, but official figures on the number of casualties among security forces are no longer made public.

"Only 15 to 20 people" showed up at Bahadur's funeral the next day to pray in front of the coffin draped with an Afghan flag and a photo of the dead man stuck to one side, according to Mullah Yaar Gul, a tribal elder.

He is survived by his wife and baby son, whose enormous, kohl-lined black eyes laugh at the camera in snapshots seen by AFP.
Ahmad Shah Zaland said his brother-in-law's "greatest wish" was to see his months-old son walk.

"His wish was taken to the grave."
COMMENTS (1)
Comments are moderated and generally will be posted if they are on-topic and not abusive.
For more information, please see our Comments FAQ