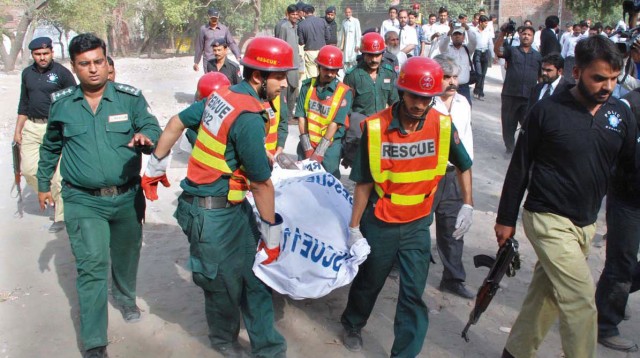 ---
LAHORE: A lawyer was killed and three other people were injured when a man threw a hand grenade and later opened fire at a sessions court in Lahore on Wednesday.

The assailant identified as Doctor Hanif Kamran was also killed when police officials retaliated, police said. However, witnesses gave a different account and said a lawyer killed Kamran after snatching his pistol. According to the witnesses, the assailant approached the chamber of the slain lawyer Mahboob Ali with a black shopping bag and suddenly hurled a hand grenade which he took out of the bag.

After the grenade attack the doctor opened fire, said Advocate Abubakar. At this, a police official retaliated, killing Kamran. However, some witnesses had a different account of the incident and said that Kamran first opened fire in Ali's chamber. The attack created severe panic at the sessions court. Lawyers and litigants rushed out of the courts building and reached the crime scene. "I was in court and thought there was a terrorist attack," said advocate Qaisar Mahmood Sarra.

Allah Yar, an official of the Bomb Disposal Squad, told The Express Tribune that in a clearance operation at the site, they recovered two live hand grenades, 21 bullets of a 9MM pistol and its magazine. Pieces of the exploded grenade were also recovered, he said. The blast broke mirrors of the adjoining buildings and court rooms near the site. Islampura Station House Officer (SHO) told The Express Tribune that the assailant was the owner of Malik Surgical Hospital Baghbanpura and had a rivalry with the deceased advocate.

He said the advocate had lodged three different cases at three different police stations against Kamran alleging rape, medical negligence and life threats. According to an initial inquiry, it was revealed that three days ago the two had reached a compromise and that Ali had agreed to give a statement before the court in Kamran's favour, the SHO said. Following the truce, when Kamran reached the advocate to ask him to appear before the court, the advocate declined to do so. After the incident, lawyers blocked Lower Mall and chanted slogans against the government alleging that it does not provide security at courts.

Lahore Bar Association President Sajid Bashir told The Express Tribune that the incident was proof of the lack of security at courts. Bashir said lawyers would observe a complete boycott of the courts on Thursday. The Punjab Bar Council has announced a boycott of courts in the province. Meanwhile at a press briefing, Punjab law minister Rana Sanaullah said that although the law and order situation was disturbing, the killing of the assailant in this incident showed that the law enforcing agencies are efficient and respond quickly.

Published in the Express Tribune, May 27th, 2010.