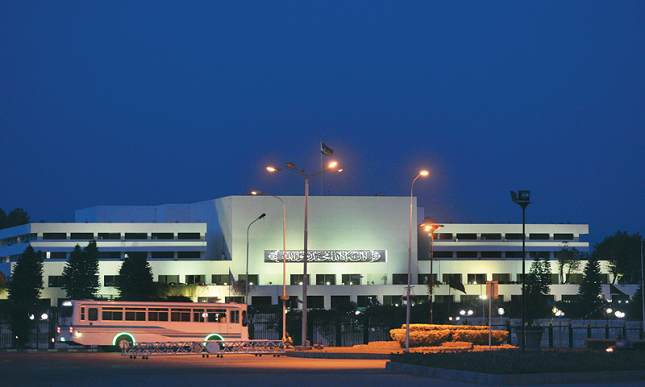 ---
As the time approaches to decide chairman and deputy chairman for the Senate, political parties hurry to make allies to decide on candidates.

In an attempt to thwart Pakistan Muslim League-Nawaz (PML-N), Pakistan Peoples Party (PPP) and Pakistan Tehreek-e-Insaf (PTI) are considering to field a joint candidate.

Moreover, PPP is also swiftly contacting Maulana Fazlur Rehman of Jamiat Ulema-e-Islam-Fazl.

Political juggling is in full swing as the political parties eyes chairman and deputy chairman slots.

Political parties hurried to the negotiation tables forgetting enmities of the past, with PPP and PTI reportedly engaging in talks. Sources have revealed that the duo is considering mutually-agreed candidates for the top Senate seats, with PPP eyeing for chairmanship and PTI eyeing the deputy chairmanship.

Leaders of both the parties are likely to engage in formal talks from tomorrow.

PTI MPAs traded votes for money in Senate elections: Imran Khan

In order to bring their own chairman and deputy chairman, PPP is also eyeing on uniting with MQM-P, independent candidates and members of several other groups, in case they do not get any positive response from the MQM-P.

In this regard, PPP party leader Faisal Karim Kundi has already met with the independent Senate candidates elected from Balochistan.

On the other hand, Dr Abdul Qayyum, Asif Ali Zardari's close aide, is scheduled to meet Maulana Fazlur Rehman in Karachi today. Both the leaders will consult each other for the appointment of chairman and deputy chairman. Depending on the outcome of the meeting, Zardari will then decide on meeting with Rehman.

In the current scenario, the number of Senate seats held by PML-N is 33 and after inclusion of independent candidate Muhammad Afridi, the number has gone up to 34. In contrast, PPP has 21 seats in the Upper House while PTI with 12 seats stands third.

Based on the present setting, PML-N is in clear position to announce the chairman given it gets the support from Senate seat holders representing Independent and FATA candidates.

Haroon Akhtar denies holding dual nationality

According to Express News, none of the political parties have prominent supremacy in the Senate, so for the candidates of Senate chairman, political parties are constantly contacting each other. Balochistan's Independent Senator has declared himself as 'open' for dialogue with other political parties.

According to sources, PML-N's candidate for Chairmanship might be Raja Zafarul Haq. Former prime minister Nawaz Sharif has tasked party workers to contact Parliamentary parties. PML-N's senator Mushahid Hussain Syed has reached out to MQM-P's Barrister Farogh Naseem.

Syed has also also reached out to six independent senators in Balochistan, while sources claim that Nawaz himself will converse with Maulana Fazalur Rehman. Nawaz has also called for a grand meeting on Wednesday to discuss which parties PML-N will contact, and party workers will present reports of their dialogues as well. National Party's Mir Hasil Bizenjo and Muhammad Achakzai, leader of the Pashtun Mili Awami Party are also invited.

While PPP has yet to submit a name for Senate chairmanship, Asif Zardari has not yet contacted Raza Rabbani to be re-elected as Senate chairman. There is still discussion and debate over whether the second most important party in the Upper House be contacted. Debate over whether Farooq H Naik should be nominated again as Senate chairman is on the table. PPP fears upsetting PML-N and PTI with the re-nomination of Rabbani.


COMMENTS
Comments are moderated and generally will be posted if they are on-topic and not abusive.
For more information, please see our Comments FAQ