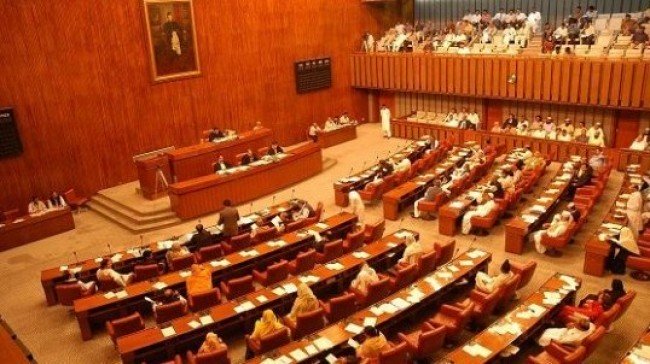 ---
ISLAMABAD: Senator Lt General (retd) Abdul Qayyum has sought ruling from the Senate chairman on the status of newly-elected independent members backed by PML-N.

Speaking on the floor of the house, Senator Qayyum said, "There are provisions in the Constitution for the newly-elected national and provincial assemblies members that they are given three days to join any political party, otherwise they will be deemed as independents."

He quoted articles 51 and 106 of the Constitution in this regard.

Meanwhile, law minister Mehmood Bashir Virk told the Senate that election authorities in compliance with the orders of the Supreme Court were developing software to enable overseas Pakistanis to vote in the upcoming general elections.

Senate polls: merit should precede wealth

Winding up a debate on a motion moved by Pakistan Tehreek-e-Insaf (PTI) Senator Muhammad Azam Swati on overseas Pakistanis poll, the law minister said it was a complex issue. The Election Commission of Pakistan (ECP) had already considered different options in this regard but all had some lacunas, he added.

The minister said the ECP had done some initial work on the software, which was presented before the apex court during the last hearing adding that the SC would take up the case again next month.

On the use of electronic voting machines, he said it would require huge funding to procure these machines. Moreover, these machines would have to be updated regularly. He provided examples from countries where these machines were used for polling but later  they reverted to a conventional method.

ECP's spring cleaning

Most senators from treasury and opposition benches, except MQM's Barrister Muhammad Ali Saif, advocated granting overseas Pakistanis right to vote and said that it was their fundamental right to get franchised.

Senator Barrister Saif was of the view that there was a need to review law provisions regarding political parties. He said in neighbouring India it is unlawful for any political party to organise any political activity outside their country. But in our case, political parties not only hold political activities but also collect donations.

He said even in the countries which do not allow dual nationality, Pakistani political parties have their chapters and office bearers. He gave examples of Denmark and Norway in this regard.

CJP vows not to let democracy derail

The house also passed a bill to provide for and promote civic education and create awareness relating to fundamental rights and obligations of citizens: The National Civic Education Commission Bill, 2017. It was moved by PPP Senator Sehar Kamran.

Senator Abdul Qayyum, who is a member of the Senate Standing Committee on Overseas Pakistanis and convener of a sub-committee said that the demand of voting right to 8-9 million overseas Pakistanis was genuine, but it involved various complexities.

He said it would be wrong to the day that their right was being snatched. In fact, they were never given this right due to intricacies involved in it.

He explained that despite being a complicated issue, work was underway to thrash out a mechanism of vote casting for them in a transparent manner: what should be the methodology of voter registration, mode of voting and how the results would be compiled.

He said that systems in other countries needed also to be studied, hoping over a period of time overseas Pakistanis would be part of a voting process as Nadra was already working on that while the Supreme Court had also expressed its desire in this context.

The house also passed resolutions recommending the government to make a policy for provision of jammers for private vehicles of MNAs, senators, MPAs, political parties' heads, ex-chief ministers and governors owning to security reasons.

The house also passed a resolution urging the government to allocate 2 to 5 per cent of the CPEC funds for social development in less-developed areas.

Another resolution, recommending the government to take necessary measures to introduce organic farming technologies in the agriculture sector, was also passed.
COMMENTS
Comments are moderated and generally will be posted if they are on-topic and not abusive.
For more information, please see our Comments FAQ