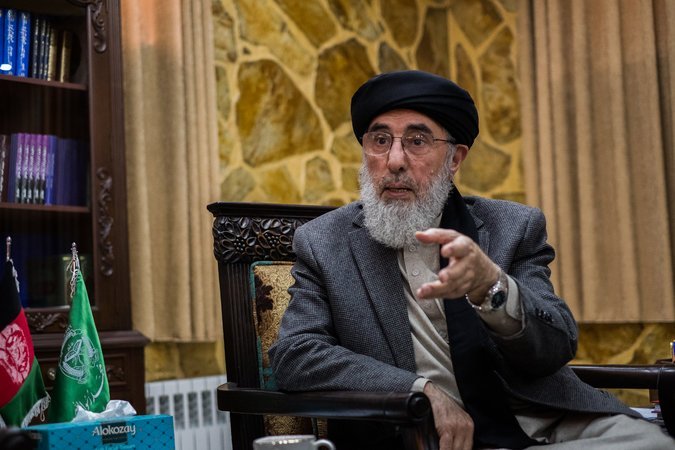 ---
When President Ashraf Ghani stood up last week to try to lure the Taliban to peace talks, promising them amnesty and political inclusion, he could point to a recent example: the deal that brought the militant group Hezb-i-Islami and its deeply divisive leader, Gulbuddin Hekmatyar, in from the battlefield.
Through decades of Afghan turmoil, Hekmatyar has managed to keep himself near the action, and has broken alliances several times to do it. He has been a CIA-favored fighter of the Soviets, a warlord who mauled Kabul, a prime minister, an admirer of al Qaeda, an ally and enemy of the Taliban, and an unabashed proponent of suicide bombings against American forces.
Since the deal that allowed him to return, initiated during the Obama administration and finalised last year under the Trump administration, he has become a more public player in the increasingly chaotic and hostile jumble of Afghan politics.
Though his reconciliation has been held out as a hope for peace, one thing Hekmatyar has not yet become is any kind of political peacemaker.
Gulbuddin Hekmatyar: Afghan ex-PM and 'butcher of Kabul'
He has been a strident critic of Ghani, and even harsher about the government's chief executive, Abdullah Abdullah, often meddling in the disputes between the two Afghan leaders. And he remains a distrusted and even hated figure among some Afghan power brokers who can agree on little else.
Still, though Hekmatyar was not deemed a significant force among insurgents by the time he reconciled with the government, he insists that he has a vital role to play in securing a deal with the Taliban.
In an interview in his government-provided residence in Kabul in February, Hekmatyar said his participation in Afghan politics showed the Taliban that they, too, could wield influence after laying down their weapons.
"Peace is our goal and ending the war our responsibility," he said.
Hekmatyar claimed that he had already begun establishing himself as an intermediary and was in regular contact with the Taliban's supreme leader, Mawlawi Haibatullah Akhundzada.
Wary mood in Kabul as notorious former warlord set to return to politics
The attraction for the Taliban of his settlement deal as a model, he said, would be greater if the government followed through on all its promises. Of 2,000 fighters in prison, he said, 150 have been freed. The United Nations has lifted Hekmatyar's designation as a terrorist, but the United States has not.
"A large number of Taliban could join the government if the peace agreement with Hezb-i-Islami is successful," he said.
Hekmatyar is promoting a reconciliation with the Taliban that would grant local autonomy to the insurgent group in certain regions, or peace provinces. He called these regions "secure areas" that would remain part of Afghanistan, even as Afghan Army troops withdrew from them.
"It would be very effective," he said, adding that in his discussions with the Afghan president, Ghani had been supportive.
Western diplomats, in contrast, lean toward a deal bringing the Taliban into the central government, similar to the arrangement with Hekmatyar, and dismiss the model of local autonomy as "Talibanistan."
Hekmatyar has also suggested that individual Taliban commanders could join the peace process by first joining his party, and in this way be grandfathered into its settlement with the government. Hezb-i-Islami has claimed success in negotiating deals with local commanders in northern Afghanistan.
But diplomats and military analysts say that, at least for now, there has been no apparent reduction in violence or prospect for a wider truce from Hekmatyar's reconciliation.
Former warlord Hekmatyar calls for peace with Afghan Taliban
Many Afghans cringe at a role in peace talks for a commander who earned the nickname "The Butcher of Kabul" for indiscriminate shelling of the capital during the civil war in the 1990s.
And there has remained his tendency to exacerbate whatever political tension is around.
He often sits near Ghani in meetings as a supposed display of unity, but he has been publicly withering about the president's governance — though mostly careful not to single him out by name.
All of that, however, was not enough to keep him from flipping expectations in order to tweak Ghani's rival, Abdullah.
In November, Hekmatyar turned up unexpectedly at a meeting of election officials where Abdullah's faction was united in demanding the resignation of Ghani's favored election committee chairman, who had been widely accused of corruption. Hekmatyar shocked the room, witnesses said, by suddenly endorsing Ghani's choice.
One point of continuing dismay for Afghan and American officials has been Hekmatyar's defense of Hezb-i-Islami's suicide bombings. In one of the worst, in 2012, the group claimed responsibility for sending a bomber to blow up a minibus carrying flight attendants for a charter company that served the American Embassy, killing 14 people.
'Butcher of Kabul' calls for peace as signs Afghan pact
In the interview, Hekmatyar denied attacking civilians but openly discussed what he described as one of his more successful operations of the war: an ambush of a United States troop convoy that "caused casualties."
He had also been a target himself, he said, narrowly escaping an American drone strike that homed in on a signal of his satellite telephone.
Hekmatyar said he knew Osama bin Laden, the leader of Al Qaeda, in the 1980s and once saved the future terrorist leader's life by breaking a Soviet Army encirclement of Arab fighters. He suggested that he had broken ties with bin Laden after the terrorist leader shifted focus from Afghanistan to global jihad.
Hekmatyar insists that he had no contact with al Qaeda after 2001, and American officials have maintained that his continued separation from the terrorist group was an unalterable condition of his reconciliation.
"Where we put our foot down was there had to be a very specific commitment on Hekmatyar's part to break with al Qaeda," Laurel Miller, a senior analyst, who served until last year as the State Department's special representative for Afghanistan and Pakistan, said in a telephone interview.
Hekmatyar's assurances have been sufficient for the former American ambassador in Kabul to meet with him.
"We are honest,"Hekmatyar said, "in both war and peace."
This article originally appeared on The New York Times
COMMENTS
Comments are moderated and generally will be posted if they are on-topic and not abusive.
For more information, please see our Comments FAQ