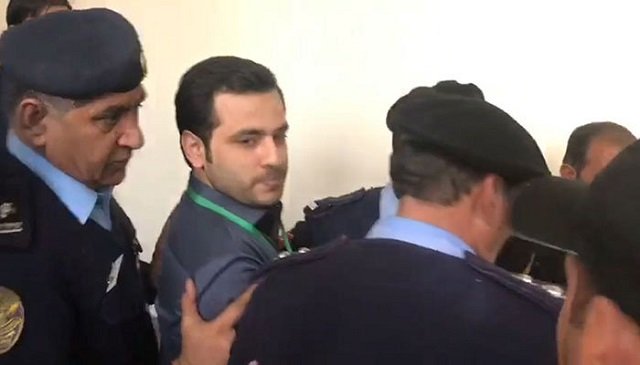 ---
ISLAMABAD: The top court on Monday, rejected the review petition filed by Shahrukh Jatoi and others against its earlier order regarding the arrests of the accused in the 2012 Shahzeb Khan murder case.

Latif Khosa, counsel for Jatoi, submitted that the Supreme Court (SC) has "completely destroyed" his case by reverting the matter back to the Sindh High Court (SHC). "Why have I been victimised as I remained in death cell for five years and now again you sent me there," Khosa argued.

The counsel contended that there is not a single order wherein the apex court had set aside high court order in exercising jurisdiction of the suo motu. He further stated that no judge of Sindh High Court (SHC) will give him relief.

Shahzeb murder case: Police arrest Shahrukh Jatoi, two others after SC verdict

"You have sealed my client's fate," Khosa added. However, the Chief Justice of Pakistan (CJP) Mian Saqib Nisar said how the SHC could go against the SC's 2013 order in the case. Justice Asif Khosa said, "The Constitution is an empty vessel and judges pour meanings in them."

The bench categorically rejected the review petition filed by Shahrukh Jatoi and others.

On February 1, the SC ordered arrest of Shahrukh Jatoi and two co-accused in the Shahzeb murder case after setting aside their acquittal by a trial court and removal of anti-terrorism charges by the Sindh High Court.

Following the hearing, the accused were taken into custody by the Islamabad police after the verdict was read out by CJP Nisar.

Interestingly, the three-judge special bench, headed by the CJP and comprising Justice Asif Saeed Khosa and Justice Maqbool Baqir also converted the case into a suo motu.
COMMENTS (4)
Comments are moderated and generally will be posted if they are on-topic and not abusive.
For more information, please see our Comments FAQ