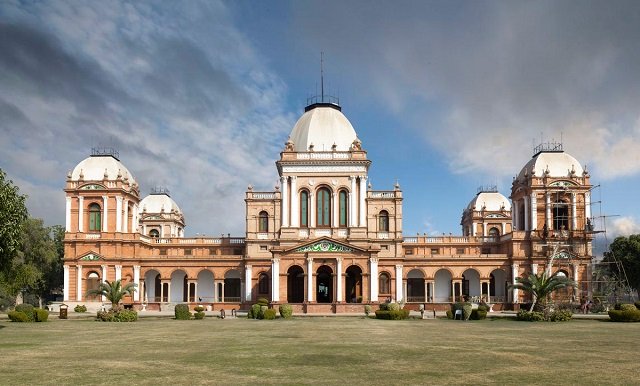 ---
BAHAWALPUR: Noor Mahal, the main attraction for tourists in Bahawalpur and a masterpiece built in Italian construction style, has been a famed hallmark since centuries.

The stunning palace was built by the fifth ruler of Bahawalpur State Nawab Sir Muhammad Sadiq or the 'Shahjehan of Bahawalpur', who is renowned for his passion of constructing beautiful buildings.

Remnants of the Raj

The construction of this beautiful building was carried out by a British Engineer named Heenan in 1875 at a cost of Rs1.2 million and is considered as one of the hidden gems of Bahawalpur.

The palace is known for its colourful, exquisite exterior made of cut and dressed bricks that make this a unique piece of historical architecture. The distinguishing architectural feature of Noor Mahal is the use of five domes built in traditional style.

Since its construction, the palace shot Bahawalpur's popularity among tourists, who throng the site every day to have a glimpse of the vintage marvel.

The reason

Like other monuments in Punjab, the government has placed Noor Mahal under the Antiquities Act. The palace was built to serve as the residence of Nawab Sir Muhammad Sadiq. However, as the Basti Muluk Shah Graveyard was located a few metres away, he did not live in the palace as the royals did not prefer to live near a graveyard.

The palace was later used as the state guest house. During Nawab Sadiq's rule, the palace was used to hold cabinet meetings, while it was also used as the State Court where the Nawab addressed his courtiers and the army during wars.

Majestic design

Noor Mahal was built in the middle of a spacious garden having a water tank and fountains. It consists of 32 rooms, including a basement. When the construction was completed, the palace was decorated with thick carpets and paintings made by western artists.

The two-storey palace had exquisite furniture and fixtures like chandeliers and cupboards that were imported while it also consisted of rich collection of arms in its armoury.

As part of the Mughal traditions, some swords and muskets are also on display inside the palace.

In 1906, a mosque was added to the palace by Nawab Bahawal Khan, a later ruler of the state of Bahawalpur. He also renovated the structure at a cost of Rs100,000.

OLMT stations to synchronise with heritage monuments

Downfall

According to an old tale, a property dispute took place among the heirs of the last ruler which led to the abandonment of Noor Mahal as well as several other buildings. The palace was locked under a judicial order but most of its artefacts were smuggled out. Its furniture, carpets, paintings and crockery were sold by thieves almost all over the country.

On October 12, 1997, the army took over the possession of the palace and restored it. Later, it was used as an army club. The building is still in army's possession.

Published in The Express Tribune, March 5th, 2018.