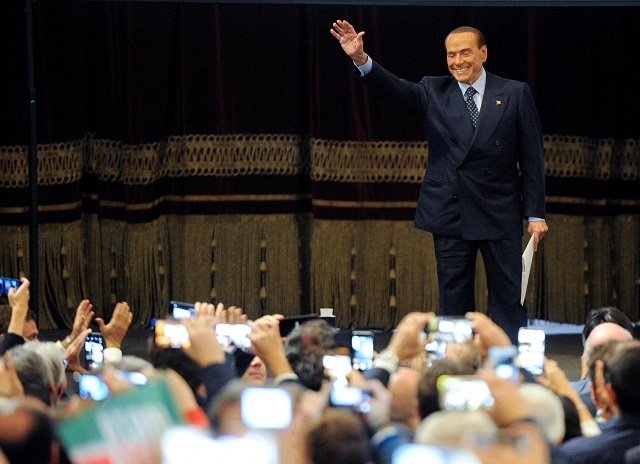 ---
ROME: Media mogul Silvio Berlusconi's right-wing coalition was set to win the most votes but may fall short of a majority in Italy's election on Sunday, with far-right and populist parties surging ahead, according to exit polls.

Berlusconi, a flamboyant three-time former prime minister, cannot hold elected office because of a fraud conviction but has put forward European Parliament President Antonio Tajani as his prime ministerial nominee.

His four-party coalition was expected to win between 31 and 41 percent of the vote, followed by the anti-establishment Five Star Movement with 29-32 per cent, according to an exit poll published by Rai public television.

An exit poll by private channel La7 put Berlusconi's coalition at between 32 and 37.6 per cent and the Five Star Movement between 28.8 and 30.8 per cent.

The ruling centre-left Democratic Party was trailing in third place, according to the exit polls.

The vote comes after a gloomy campaign characterised by anti-immigration tub-thumping, widespread public anger at Italy's slow economic recovery and clashes between far-right and anti-fascist activists.

The killing of a teenaged recovering drug addict blamed on Nigerian immigrants last month inflamed tensions.

The murder prompted a racist "revenge" gun rampage by a fascist sympathiser, who shot and wounded six Africans.

Italy heads to polls with centre-right ahead but stalemate likely

The right has promised to deport 600,000 "illegal" migrants and block new arrivals — a prospect judged unfeasible by the ruling centre-left government.

The surge in right-wing and populist parties has drawn comparisons to Britain's vote to leave the European Union and the rise of US President Donald Trump.

Former White House adviser Steve Bannon — the man who helped Trump ride a populist wave to power — told the Italian press that a hookup between the anti-establishment Five Star Movement (M5S) and the anti-immigration League was "the ultimate dream".

"The Italian people have gone farther, in a shorter period of time, than the British did for Brexit and the Americans did for Trump," said Bannon, who was in Rome on Sunday.

He characterised the election as "pure populism".

There was concern ahead of the vote that a lacklustre campaign and a confusing political landscape could push turnout down to a record low.

The interior ministry put nationwide turnout at 58.4 percent at 1800 GMT four hours before polls were to close.

The national turnout in the last general election in 2013 was 75 percent.

"We hope something will change because until now things have been very bad," said Enzo Gallo, an elderly shopper at a street market in Milan.

Pakistan will soon be among Italy's top trading partners: envoy

"The middle class no longer exists, the poor are becoming poorer, the rich are becoming richer and there is no social justice," he told AFP.

If no grouping wins an overall majority, analysts say one scenario could be a grand coalition between the ruling centre-left Democratic Party and Berlusconi's Forza Italia — a prospect that would reassure investors.

An alternative scenario of a deal between the anti-establishment Five Star Movement, which looks set to be Italy's biggest single party, and the far-right League led by Matteo Salvini has spooked European capitals.

Salvini, who is part of Berlusconi's coalition, has said he should receive the prime ministerial nomination if his party comes in front of Berlusconi's Forza Italia (Go Italy). Exit polls showed the two almost neck-and-neck.

Berlusconi, who won his first election in 1994, has returned to the limelight at the age of 81 despite a career overshadowed by sex scandals and legal woes.

The billionaire was ambushed as he cast his vote in Milan by a topless woman from the Femen activist group who had "Berlusconi, you have expired" scrawled across her torso.

"The verdict in Italy is always the same: the country is in constant instability. Being ungovernable has become endemic," said Claudio Tito, columnist for La Repubblica.

The Five Star Movement, which was founded in 2009 by a web entrepreneur and a former comedian, has tapped into disillusionment with traditional parties.

"I voted for the right and Berlusconi in the past ... but this time I'm voting Five Star Movement to be against the parties that have always stolen," said 24-year-old pastry chef Francesco Tagliavini at a polling station in Rome's Tor Marancia neighbourhood.