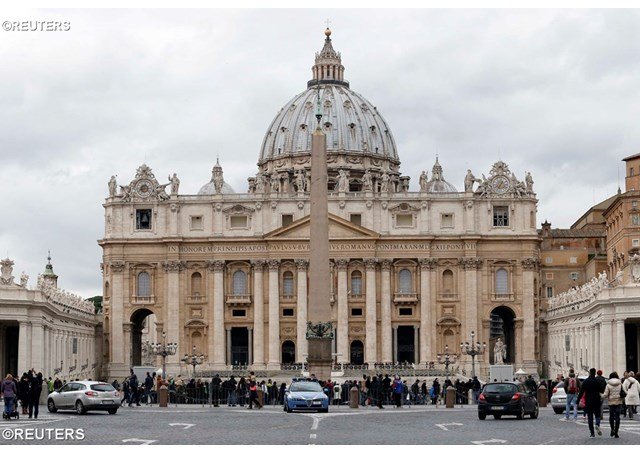 ---
MELBOURNE: Cardinal George Pell, a top advisor to Pope Francis, arrived on Monday for a crucial hearing in Australia to determine if he stands trial on multiple historical sexual offence charges.

The 76-year-old, the most senior Catholic cleric to be charged with criminal offences linked to the Church's long-running sexual abuse scandal, denies all the claims.

He has taken leave from his role as Vatican finance chief to fight the charges, which relate to incidents that allegedly occurred long ago.

Their exact details and nature have not been made public, other than they involve "multiple complainants".

Pell, in a beige jacket and carrying a black bag, arrived by car and was escorted by dozens of police as he made his way up the steps and into the Melbourne magistrates court without saying anything.

This was in contrast to his two previous appearances at preliminary hearings — in July and October last year — when he walked from his nearby lawyer's office in chaotic scenes as he was mobbed by the media.

A small group of protesters, holding placards and signs, were outside the court.

Up to 50 witnesses could be called during the four-week committal hearing, where they will give their accounts and be cross-examined by Pell's legal team in proceedings that will be closed to the public and media.

Vatican revives pope's sexual abuse panel

Magistrate Belinda Wallington will then decide if there is sufficient evidence for the case to go to trial.

One of the charges against the former Sydney and Melbourne archbishop was withdrawn on Friday, with the accuser dying since the criminal proceedings began in 2017 following a two-year investigation.

Pell does not have to formally enter a plea unless committed to stand trial, although he instructed his lawyer from the outset to make clear he intended to plead not guilty.

"For the avoidance of doubt and because of the interest, I might indicate that Cardinal Pell pleads not guilty to all charges and will maintain the presumed innocence that he has," his barrister Robert Richter said in July.

Pell's defence team said last week part of their cross-examination would be to determine when the accusers first disclosed he had allegedly abused them, as they try to prove the allegations were a "recent invention".

Vatican sexual abuse envoy completes Chile visit

Since his last appearance, the cardinal's legal team has been denied requests for medical records of the complainants, with the magistrate saying disclosure could be harmful.

His case has coincided with Australia's Royal Commission into Institutional Responses to Child Sexual Abuse, ordered in 2012 after a decade of pressure to investigate widespread allegations of institutional paedophilia.

The commission spoke to thousands of victims and heard claims of child abuse involving churches, orphanages, sporting clubs, youth groups and schools.

Pell, who was ordained as a Catholic priest in 1966, appeared before it three times, once in person and twice via video-link from Rome over the Church's handling of complaints against paedophile priests in Victoria state in the 1970s.

With Pell proclaiming his innocence, Australia's Catholic leaders have spoken out in support, describing him as a "thoroughly decent man".

The Archdiocese of Sydney is providing his accommodation while he fights the charges, but it has said it will not foot his legal bills, which could run into the hundreds of thousands of dollars.
COMMENTS
Comments are moderated and generally will be posted if they are on-topic and not abusive.
For more information, please see our Comments FAQ