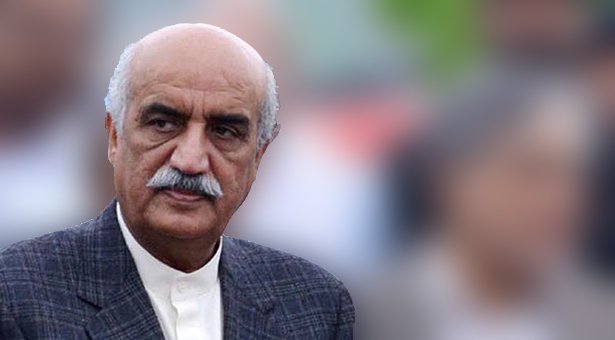 ---
ISLAMABAD: Pakistan People's Party leader Khursheed Shah has officially reached out to the Pakistan Tehreek-e-Insaf to discuss setting up a caretaker government ahead of the upcoming general elections.

According to a statement issued by the PTI's media cell, the PPP leader, who is also the leader of the opposition in the National Assembly, contacted PTI Vice Chairperson Shah Mehmood Qureshi to discuss the interim setup in the centre as well as the provinces.

"PTI will soon forward the names of its nominees for the caretaker prime minister and chief ministers to the opposition leader," a spokesperson for PTI said.

Mustafa Kamal alleges open horse trading in Senate elections

He said discussions surrounding the caretaker government had been going on within PTI and nominations for the interim setup will soon start coming in.

The spokesperson added that PTI chief Imran Khan recently chaired a meeting in which the party decided to actively take part in the process of setting up the caretaker government and finalise nominations for the caretaker PM and chief ministers in all four provinces.

Horse-trading allegations

Meanwhile, PTI has also initiated an internal inquiry into allegations that a number of their members sold their votes during the Senate elections. The strongest allegations are against the party's members of the Khyber-Pakhtunkhwa Assembly, where the leader of their parliamentary delegation, Chief Minister Pervez Khattak, has been tasked with investigating the allegations and furnishing a report to PTI Chairman Imran Khan, who is currently on a two-day visit to Karachi.

Meanwhile, the PTI has also decided to challenge the election of Senator-elect from K-P Dilawar Khan before an election tribunal, alleging that he was known to be "committing corruption in past and manoeuvring election in his favour through unfair means and through the support of the PML-N".

Dilawar Khan was elected on a technocrat seat.

PTI was expecting to win at least six senate seats from K-P but eventually was only able to bag five. The PTI chief was unimpressed by the outcome of the Senate elections in a province where his party rules.

Senate election results are out: Politicians react – some pleased, others peeved

"Senate elections yet again witnessed shameful horse trading where MPAs bought and sold their votes as the country witnessed this sale of their 'elected' people to the highest bidder. This shows the moral decline of our political class. In which western democracy does such a sale happen?" Imran Khan has tweeted as the elections results announced. Khan has accused Pakistan Peoples Party of indulging in horse-trading in K-P.

"Horse-trading in the Senate elections allowed PPP to win two seats in K-P, where they only have 7 MPAs. This sort of electoral farce raises some serious ethical questions," Khan said. A senior party leader said the PTI K-P chapter would soon share its findings with Khan and disciplinary action would be taken against all those found to have sold their votes for cash, kind, or favours.
COMMENTS
Comments are moderated and generally will be posted if they are on-topic and not abusive.
For more information, please see our Comments FAQ