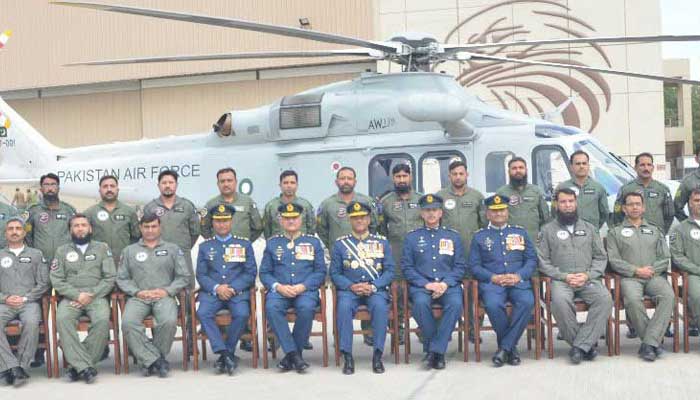 ---
Pakistan Air Force inducted AW-139 (Augusta Westland) helicopters into No 88 Search and Rescue squadron enhancing its capabilities, Radio Pakistan reported.

With the induction of this helicopter on its inventory, this Search and Rescue squadron has been renamed as No 88 Combat Support Squadron and Advanced Helicopter Training School.

To celebrate the induction of new helicopters, a ceremony was organised at the PAF Base, Shahbaz in Jacobabad. The ceremony was attended by Chief of Air staff Air Chief Marshal Sohail Aman.



The Air Chief said: "The AW-139 helicopters would considerably enhance the operational capabilities of this squadron and would serve as a conversion unit or the young pilots to train them on this system."

Pakistan Armed Forces ranked 13th most powerful on Global Firepower military strength index

He further added that, "The induction of these helicopters is a manifestation of our firm commitment to modernisation and capability enhancement of the PAF."

The Air Chief remarked that due to their versatile functionality, these latest helicopters take us closer to achieving our vision.

India requests new Apache helicopters from US to protect border with Pakistan, China

He also inspected the guard of honour by an impressive contingent of the Force. This was followed by an air display of a three-ship formation, comprising of 01 M1 171 and 02 AW 139 Augusta helicopters, which flew over the venue.

The event was also attended by high ranking military officials along with civil dignitaries.
COMMENTS (3)
Comments are moderated and generally will be posted if they are on-topic and not abusive.
For more information, please see our Comments FAQ