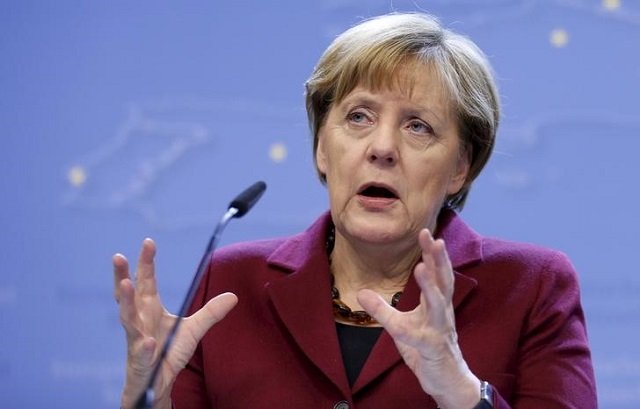 ---
BERLIN: Germany's second biggest party will announce Sunday the result of their members' high-stakes vote on whether to join Chancellor Angela Merkel's coalition, a decision that will determine her future after five months of political stalemate.

The leadership of the centre-left Social Democratic Party (SPD) hammered out a hard-fought deal with Merkel's conservative bloc in February.

Merkel readies for intense German coalition talks after tight SPD vote

But with the SPD bitterly divided internally over its way forward following abysmal election results in September, it had also promised its more than 460,000 card holders the final say on the accord.

If the rank-and-file of the 153-year-old labour party gives the thumbs up, Merkel could launch her fourth government by mid-March.

If they torpedo the deal, Europe's biggest economy faces snap elections that could hasten an end to Merkel's leadership after 12 years in power.

The SPD's leadership is appealing to members' sense of responsibility to voters as it urges them to approve the coalition deal.

Party chiefs also argue that they have wrested a maximum amount of concessions from the conservatives, including control over the crucial finance and foreign ministries.

A survey published by YouGov in the final days of the voting, which began on February 20 and closed Friday, suggested that the yes camp is slightly ahead, with 56 per cent of SPD supporters among the public backing a new partnership with Merkel.

It is not clear whether card-carrying SPD members are equally open to the deal.

Top SPD politicians including Foreign Minister Sigmar Gabriel have also voiced confidence that members will plump for a new round in government.

But the SPD's young members have spearheaded a rebellion, with the party's youth wing leader criss-crossing the country over the last weeks making an impassioned case against the coalition.

They argue that governing for another four years under Merkel's shadow would sound the death knell for the party.

Walking away from Merkel and her Christian Democratic Union party is, however, not without risks for the SPD - especially if the veteran leader keeps to her preferred option of calling snap elections as opposed to pursuing a never-before-tried minority government.

Latest polls show that the SPD's support has further plunged, reaching as low as 16 per cent - on par with the far-right AfD, whose anti-immigration campaign platform captured the votes of Germans unsettled by the arrival of more than a million asylum seekers since 2015.

Spiegel weekly noted that the poor figures have "terrified many" in the SPD and could spur them to go for the lesser evil of joining forces with Merkel again.

If the yes-sayers carry the day, it will likely be a rockier term ahead for Merkel, as the two coalition partners would have only a slim 56 per cent (399 out of total 709) of seats in parliament, far down from the crushing majority they enjoyed in the previous four years.

In a sign of the reluctant collaboration, the two sides have agreed on a clause to review their cooperation in two years.

Merkel defies critics, vows to govern for full four-year term

Merkel, once the seemingly invincible leader of her party and the nation, is believed to be in the twilight of her reign as she is weakened by her protracted struggle to put together a viable coalition.

For the chancellor, who is under pressure within her party to rejuvenate her ranks, the clock is essentially ticking to groom her successor.

At a congress this week, her party formally appointed its new general secretary, Annegret Kramp-Karrenbauer, tapped by Merkel to kickstart the renewal process.
COMMENTS
Comments are moderated and generally will be posted if they are on-topic and not abusive.
For more information, please see our Comments FAQ