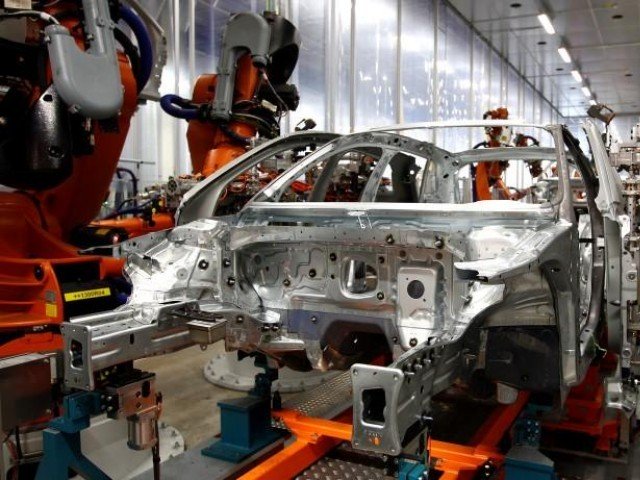 ---
LAHORE: Auto part manufacturers, which are working as vendors for global car manufacturing companies, are now looking to enhance their stake in the rapidly developing auto market of Pakistan.

Current size of the auto industry stands at around Rs370 billion. Of this, around Rs20 billion has been invested by domestic vendors, who are providing spare parts and accessories for different automobile categories, according to statistics provided by the Pakistan Association of Automotive Parts and Accessories Manufacturers (Paapam).

Chinese express interest in joint auto-part manufacturing ventures

The new auto policy 2016-21 did not benefit these vendors directly, but existing and upcoming auto companies will have to rely on them to reach a satisfactory localisation level - the percentage of local parts in a vehicle - to remain competitive in coming years. "We are ready to expand our vendor base, but we also need tax incentives and loans at concessionary mark-up rates," said Paapam Chairperson Iftikhar Ahmad while talking to The Express Tribune.

"We have already submitted our proposal for developing a separate special economic zone for the auto sector."

He clarified that auto part makers did not need any financial assistance, but required government departments to take some regulatory measures. "It is strange that Pakistan's trade in the engineering sector is only 1% of its total trade whereas worldwide its share is around 70%," said Ahmad.

"China is helping us and can do so further, however, the government should allow those Chinese companies that are looking to enter into joint ventures with the locals to work in Pakistan, instead of traders." The auto industry has already achieved a high level of localisation, whereby it boasts of 75% local parts in the manufacturing of cars and heavy commercial vehicles, 96% in tractors, 96% in motorcycles and 80% in three wheelers.

Moreover, its products are being exported to the European Union, USA, African countries and all over Asia. The export volume currently stands at $210 million per annum.

Industry experts say as the demand for automobiles is expected to rise over the next three to five years, the big challenge for Pakistan is to nurture domestic assemblers and vendors and rapidly generate investments for capacity building to meet the sharply rising demand.

The base of engineering technologies in this industry is spread across sheet metal parts, plastic injection and blow moulding, rubber components, steel forging and machining, foundry/castings, aluminium die casting and machining and electrical and electronics. Therefore, the vendors need to work on multiple fronts to achieve growth objectives, while consistently maintaining the quality of their products.

Loads establishing alloy wheels manufacturing plant

Syed Nabeel Hashmi, an auto part maker, said the auto market of Pakistan had the potential to cross the trillion-rupee mark due to multiple factors.

"We, as an industry, are on standby mode as this sector has the potential to touch Rs1 trillion in coming years," he said.

At present, the four-wheeler demand stands around 250,000 units per annum and as soon as it crosses half a million units, things will change dramatically. "Currently, we are riding with the population growth but when demand will cross 500,000 units, the companies will start looking to make high-tech engine parts locally." He said the government should now keep an eye on the new entrants as under the Greenfield category, it was giving benefits to the new players.

Published in The Express Tribune, March 4th, 2018.

Like Business on Facebook, follow @TribuneBiz on Twitter to stay informed and join in the conversation.