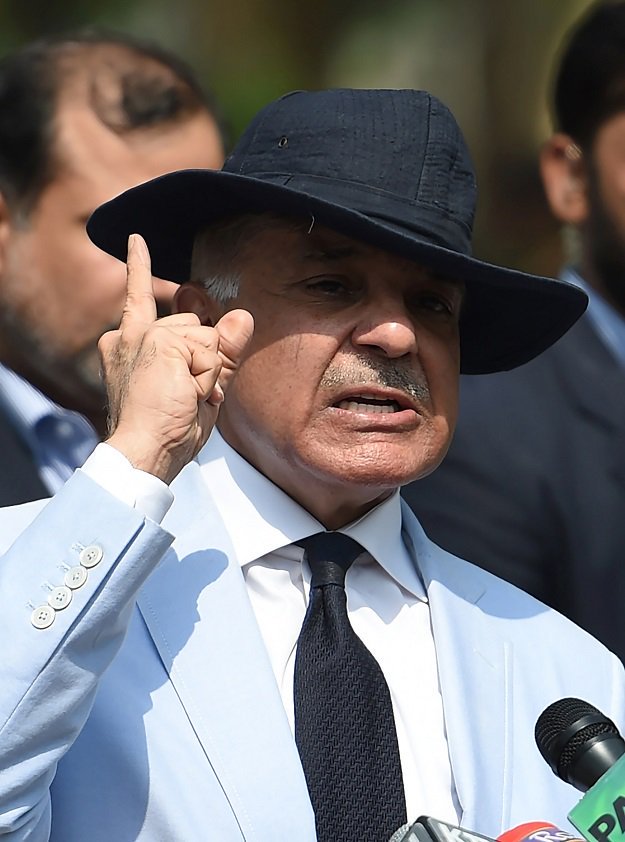 ---
PML-N: Uneasy lies the head that wears a crown

(Shakespeare's Henry IV Part II)

The road ahead is not easy for Shehbaz Sharif.

Elected as acting president by the Central Working Committee (CWC) of the PML-N, endorsement of the younger Sharif by the general council for party presidency is mere formality. However, there was visibly more to the CWC meeting than passing the leadership baton. There was Nawaz Sharif. The elder Sharif was proclaimed as the party's guide for life. He proposed the name of Shehbaz for the position. He caustically reiterated his narrative of judicial partisanship and conspiracy, and resolved to continue his fight for supremacy of the electorate.

Then there was a meticulously orchestrated and choreographed bonhomie publicly displayed by the Sharif clan. Maryam and Hamza accompanying each other with unusual warmth, Maryam going to the stage to be affectionately embraced by her uncle, and the two Sharifs reposing unwavering confidence in each other, were powerful optics. The message was evident: the nerve centre of the PML-N — the Sharif house — stood united.

From these two different strands, arise the principal challenges Shehbaz faces in his new role. Will he be able to exercise real power in party decision-making process, or will the newly elevated lifetime guide would have the ultimate ideological, strategic and operational sway over party affairs? Whether the PML-N would toe an all-out confrontationist party line espoused by Nawaz, or will it be a more reconciliatory approach towards the establishment, that Shahbaz stands for?

Inextricably linked with these questions are the dynamics within Sharif household. Rumour mills contend that Maryam and Begum Kulsoom have strong reservations against shifting the mantle of leadership to younger Sharif. Maryam was repeatedly propped up as an alternative despite her limited political exposure and acumen. Even the ailing spouse of Nawaz was among the contenders. At a subterranean level, the two Sharif families are grappling with this issue behind closed doors. How will the question of Sharif legacy be addressed? Shehbaz has to carefully navigate through this predicament as well.

Until now, Shehbaz has carefully distanced himself from the harsh rhetoric peddled by Nawaz against state institutions. Portraying himself as a man out to deliver, he advertises a persona of an effective and untiring executioner of public welfare projects. However, in his role as president of the PML-N, he cannot extricate himself from mainstream narrative of the party. The PML-N has crossed many a bridge. He has to align with a collision course that his party is treading vociferously. It is impossible to feign innocence and indifference any more.

Interestingly, the Nawaz mantra is paying off. Massive crowds, thunderous cheers, passionate slogans — all augur a robust launching of the election campaign. Nawaz has been wronged — this one-point agenda energises party adrenaline today. The judiciary and the establishment have marginalised the public mandate and the people ought to snatch back their right from usurping forces is the clarion call. The PML-N's popular clamour is incessantly gaining momentum. Shehbaz cannot change the winning strategy mid-stream, and that too when Nawaz thinks otherwise.

Showcasing himself as prime ministerial stuff demands a certain persona from Shehbaz. Leading a party propelled by a vindictive agenda to massively restructure existing institutional structure and equilibrium, he stands on slippery ground. Graduating from provincial to central leadership of the PML-N, he also has to negotiate with party heavyweights who might not be as pliant as the likes of his provincial party subordinates. Moreover, they comprise the core team of Nawaz, and would be focusing more towards him for inspiration. A veteran of political arena, Shehbaz is also cognisant of the Maryam factor. Party presidency might be a stepping stone, but is no guarantee of transference of the ultimate political legacy. Maryam is on his tail, and with the blessings of her father — the lifelong guide — can assume the crown at an opportune time.

Shehbaz has been acting as a one-man army in Punjab for years. Centralisation of power and absolute decision-making have been his administrative hallmarks. Will he be able to continuously play second fiddle in the party? Will he be comfortable leading a party going against his own preferred policy of reconciliation with state institutions? And importantly, will he be a president in substance and spirit or just in name? His is a peculiar situation. He can assert, but will not prevail. He will be president, but won't have the clout and space to bestow ideology or strategic direction to the party. He will be the prime ministerial candidate, while always apprehensive of what Nawaz might have up his sleeve to carve Maryam's future political fortune. Conversely, the elder Sharif will be closely monitoring his younger brother. Such has been the cruel and malicious nature of power politics since eons.

External challenges to Shehbaz are manifold. Nawaz being disqualified from active political arena, the PTI and the PPP have all their ammunition pointed towards him. The Model Town tragedy is dormant at the moment. Relief in Hudaibiya case had been a breather. However, NAB probes into Ashiana housing scheme, the 56 public-sector companies in Punjab, and alleged anomalies in mega projects across Punjab cast dark shadows. Recent defections within the PML-N are not making things easier. Shehbaz needs to stop this trend and dispel the perception that an anti-establishment party stands a slim chance of forming a future government. The opposition, particularly the PTI, will keep hounding him. But the real challenge for Shehbaz is from within.

Some days before being elected acting president, Shehbaz talked about his refusal to a prime ministerial offer by Musharraf. He was clearly proclaiming his loyalty to his elder brother. This reflects insecurities of both Sharifs. Presidency of Shehbaz will mean little to his person, and to his party, if the shadows of his elder brother always loom large on the party landscape. Loyalty is one thing, subservience, quite another.

Published in The Express Tribune, March 4th, 2018.

Like Opinion & Editorial on Facebook, follow @ETOpEd on Twitter to receive all updates on all our daily pieces.
COMMENTS (1)
Comments are moderated and generally will be posted if they are on-topic and not abusive.
For more information, please see our Comments FAQ