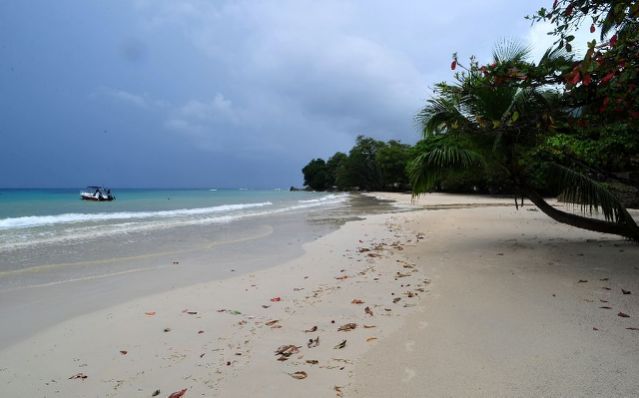 ---
VICTORIA, SEYCHELLES: A plan for India to build a military base on an outlying Seychelles island has won favour among the archipelago nation's politicians, but some hostility from its people.

The base on Assumption Island is to be funded by India and shared by the two countries' militaries.

The deal was struck in principle in 2015 during a visit to the Seychelles by India's prime minister Narendra Modi, but progress since has been slow.

Eleven sick after envelope opened at US military base

The government of the Seychelles, based in Victoria on Mahe Island 1,135 kilometres (705 miles) northeast of Assumption, says the base will help coastguards to patrol its 1.3 million square kilometre (500,000 square mile) exclusive economic zone for illegal fishing, drug trafficking and piracy.

Currently, the remote coral island has a tin shack post office, an air strip and almost no people, it is less than seven kilometres long, has a high point just 30 metres (100 feet) above sea level and is covered in bird excrement.

But its location lends it strategic importance for monitoring shipping in the Mozambique Channel.

India requests new Apache helicopters from US to protect border with Pakistan, China

India plans to invest $550 million dollars (446 million euros) in building the base to help it ensure the safety of its vessels in the southern Indian Ocean. It also says the base will be a resource for other shipping nations.

"Assumption is very close to the Mozambique Channel where much of the international trade is transiting, and not just for India but for other countries as well, and our interest is that our trading vessels are safe," said India's ambassador in Victoria, Ausaf Sayeed.

India has had a military cooperation agreement with the Seychelles since 2003 and the deal would give it use of the Assumption base for up to 30 years. Indian soldiers would be deployed on the island and help train Seychelles' troops.

But ratification of the 2015 agreement has been slow with a new, amended pact only signed between the two countries on January 27.

"What we did in relation to the first agreement is to clarify some points that could give rise to litigation," said Frank Ally, the Seychelles' attorney general.

China rejects speculations of military base in Gwadar

He said these included a prohibition on any nuclear uses of the island or weapons storage. India is also not allowed to use Assumption in war.

Seeking to allay fears the government has made available to the public some details of the classified defence agreement.

Nevertheless, the project remains controversial with small weekly demonstrations in the capital.

Indian presence in the Seychelles is a sensitive matter. Some fear an influx of Indian workers who, they say, might come to dominate the economy, while others consider a foreign power building a military base an affront to sovereignty and national pride.

"The Seychelles can make its own military base, I am against any foreign military presence!" said Guilmert Corgat, a businessman in Victoria who attended a town hall meeting on the plan in late February.

"If this deal is so good for the Seychelles, why don't we hold a referendum?" asked Alexia Amesbury, a lawyer.

During the discussions foreign minister Barry Faure was forced to insist the government was not giving the island away, "because Assumption belongs to the Seychelles".

Opponents of the plan also cite Assumption's relative proximity to Aldabra atoll, a UNESCO World Heritage Site that is home to the world's largest population of giant tortoises.

Environmentalists worry about the possible impact of a large military presence so close to an ecosystem that has survived precisely because of the absence of people.

Despite the dissenting voices, Sayeed remains positive that parliament will ratify the new agreement when it reopens this month.

With the opposition, like the government, broadly in favour of the base, though against too many concessions to India, the diplomat's optimism may be well-founded.

"I think politicians and people who see the positive side of this cooperation will be in favour, and I am convinced that it will pass," he said.