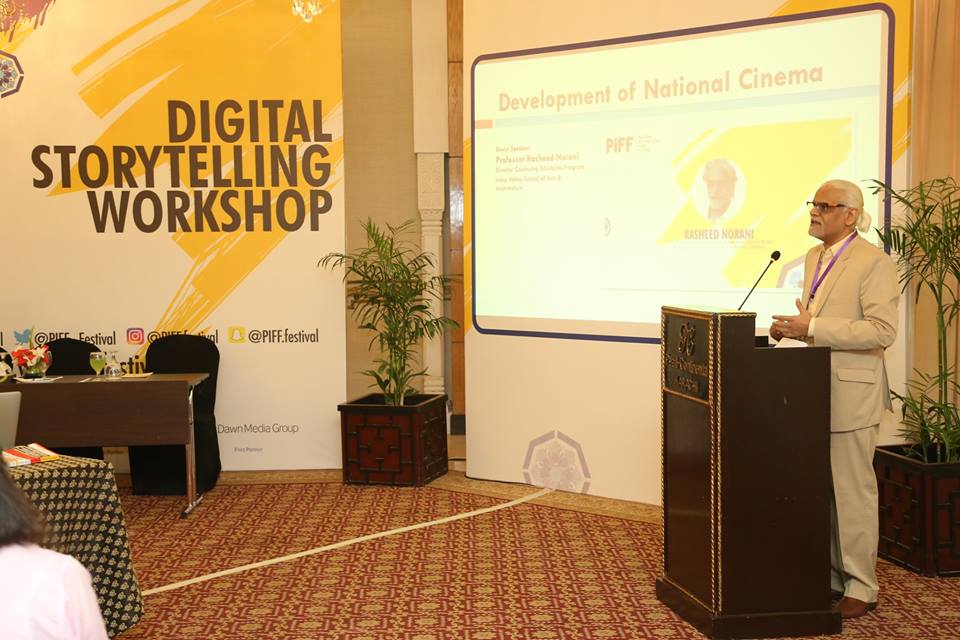 ---
KARACHI: Pakistan International Film Festival is set to be held in late March, but its three-day digital storytelling workshop is already ongoing. From February 26 to 28, students from several universities participate in the workshop where they will be introduced to the film-making process from screenwriting to post-production.

On the first day, February 26, film-maker Javed Jabbar generally spoke to the participants about the local film industry and its history. He said the Pakistani cinema has gone through three phases: the first began after 1947, the second around 1965. "Because of the 1965 war, the Pakistani and Indian government decided to ban import of film. Our film-makers then demanded protection, saying they couldn't compete with Bollywood because of lesser resources and smaller market. I think they should have competed, but they didn't," he said. "They retorted to plagiarising instead of developing their own idiom. And of course, back in the day we had no internet, so it took time to find out if a film has been copied. The news slowly travelled through word of mouth between communities." The third phase is the ongoing revival.




On the same note, Indus Valley School of Art and Architecture Director Continuing Education Programme Rasheed Noorani, in his session about development of national cinema, observed a pattern in different cinema movements of the world. "Russian Formalism, Italian Neorealism, German New Cinema, French New Wave and Iranian Minimalist Cinema – notice the pattern in all these national cinema styles. They all started as a result of war and national trauma, as a certain resistance and rebellion," he said.

He suggested the young film students to use disruptive media such as YouTube, and then channel it to help create Pakistan's national cinema. He urged the students to step out of their comfort zones and go out in the streets to discover stories of people. "It's only 4% of people who are able to afford to go to cinemas. Rs700 per head and if I take my family, it costs me Rs6000. Do you want to make films only for the top 4% people? What about the rest of the Pakistani population? Go out and explore and tell their stories, make films for everybody. Experience their reality and issues. I say you can't make a film about hunger if you haven't stayed hungry for two days."


our

Responding to why Pakistani film-makers didn't develop their own idiom such as other countries in times of crises even though Pakistani too had seen a national trauma, Noorani said, "This is what I have been wondering too. I don't understand why they didn't. Maybe because the Partition was more a personal trauma of immigrants. I don't exactly know. But we definitely tried to suppress it instead of exploring it."

Further, Jabbar spoke of preserving the history of Pakistani cinema as well as the wrong traditions plaguing our cinema, such as film directors and writers not publishing screenplays for others to learn from. He gave an example of his 1976 film 'Beyond the Last Mountain', which was Pakistan's first English language film, the screenplay and notes of which were published as a book.

The three-day workshop will take the students through the film-making process as they will be making short films in groups. The short films made during the workshop will be screened next month as part of the Pakistan International Film Festival, which will be held from March 29 to April 1.
COMMENTS
Comments are moderated and generally will be posted if they are on-topic and not abusive.
For more information, please see our Comments FAQ