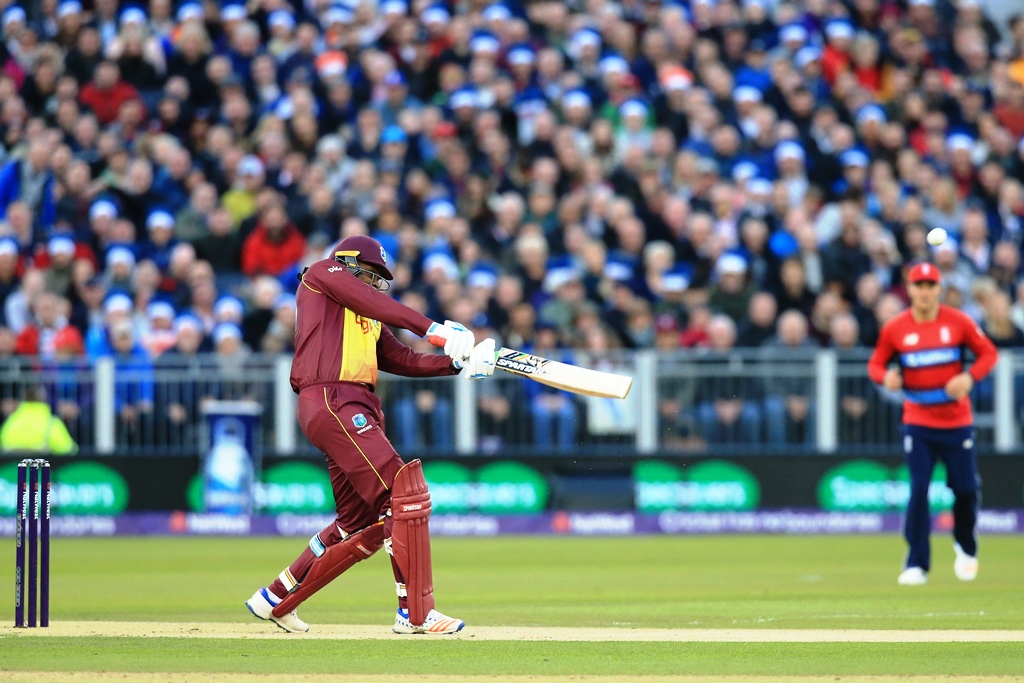 ---
HARARE: Multi-millionaire and self-proclaimed 'Universe Boss' Chris Gayle will rub shoulders with a battalion of teenage leg-spinners and a part-time bat designer when the 2019 World Cup qualifying tournament gets underway on Sunday.

It's the modern phenomenon of the globalisation of sport, although not in the manner that the likes of Gayle, and his estimated annual income of $7.5 million, would normally recognise.

The West Indies, world champions back in 1975 and 1979, were the biggest casualties of the International Cricket Council's controversial decision to shrink next year's World Cup to just 10 nations.


Holder full of praise for Gayle, Samuels ahead of World Cup qualifiers


Sixteen teams took part the 2007 edition but just 14 graced the 2011 and 2015 tournaments.

India, the sport's financial powerhouse, played just three games in the 2007 competition, a woeful performance mourned by millions of fans and legions of business executives across the sub-continent.

Now, a differently-formatted 2019 and 2023 World Cup guarantees teams at least nine matches.

However, only the top eight nations were guaranteed places in the 48-game, 47-day marathon in England and Wales next year.

So the West Indies, no longer in the world's top 10, must rough it with newly-minted Test nations Afghanistan and Ireland as well as hosts Zimbabwe, Scotland, Hong Kong, Papua New Guinea, the Netherlands, United Arab Emirates and Nepal in a three-week qualifier from which only two will make the finals.

The ICC has long argued that a trimmed down World Cup with 10 of the best — only two more than the first edition back in 1975 — is the sensible way to grow the game.

But not everyone is convinced.

When the decision was announced three years ago, Sachin Tendulkar called it a "backward step", even suggesting that the finals should feature up to 25 teams.

Interestingly, 2019's other global team tournament, the Rugby World Cup, will welcome 20 nations to its finals in Japan, from a starting base of 16 at its inaugural 1987 showpiece.

The 2023 Rugby World Cup, to be staged in France, could see even more.

"To develop rugby we need a strong team in the USA, Russia and China, and emerging countries, to increase the capacity of rugby and to involve more people around the world," argued Claude Atcher, who led France's successful bid.

The 10 teams gathered in Zimbabwe from Sunday until March 25 would envy similar enthusiasm from cricket's leaders.

Far removed from the likes of Gayle will be Scotland skipper Kyle Coetzer, a former English county player, who designs bats to top up his cricket income.

His predecessor Preston Mommsen, who was captain at the 2015 World Cup in Australia and New Zealand, quit two years ago at the age of 29 to take up a job in the corporate world.

On the field over the next three weeks in Zimbabwe, the 10 hopefuls are divided into two groups of five with the leading three in each pool making the second stage of Super Sixes from which the top two will seal passage to the 2019 finals.

With Gayle and Marlon Samuels having buried the hatchet with the West Indies board, the Caribbean side should have an edge even if all-rounders Kieron Pollard and Andre Russell, spinner Sunil Narine and batsman Darren Bravo opted for the lucrative Pakistan Super League T20 instead.

Afghanistan, with top-rated 19-year-old leg-spinner Rashid Khan, and fellow wrist spinner Mujeebur Rahman, just 16, will also be amongst the favourites to reach the finals for the second time.

Recently they defeated Zimbabwe 4-1 although they were edged out 2-1 by Ireland in another ODI series.

"It feels good to see that Afghanistan is a favourite to qualify," said Rashid, installed as temporary captain, whose team beat the West Indies by 29 runs in a warm-up game in Harare on Monday.

The Irish traditionally step up at the World Cup, famously beating Pakistan in 2007 and England in 2011.

Elsewhere, Nepal will rely heavily on 17-year-old leggie Sandeep Lamichhane, his country's first player to win a lucrative IPL deal, to reach a maiden World Cup.