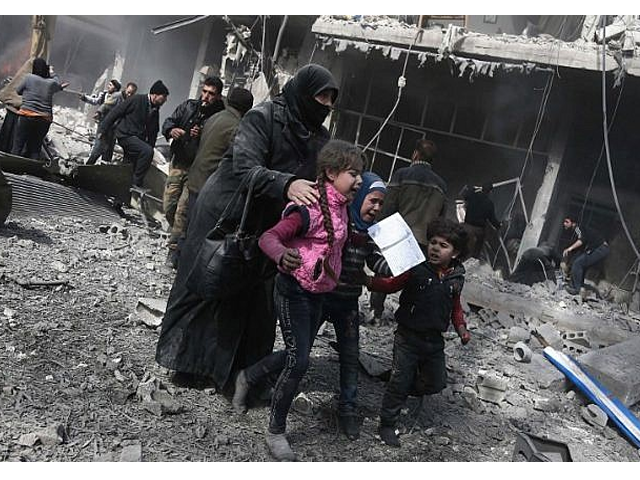 ---
HAZEH: In Syria's rebel-held Eastern Ghouta enclave, the bombs have stopped falling from the sky but the dead are still being raised from the rubble.

In the town of Hazeh, volunteers from the Syrian Civil Defence known as the "White Helmets" pull one body from the basement of a collapsed home. And minutes later, a second one.

"It's carnage down there," says Ali Bakr, a young man looking on with other residents. "People hide underground to shelter from the strikes but even that doesn't guarantee you're safe."

Syrian regime forces, backed by Russia's military, intensified their bombardment of Eastern Ghouta on February 18, carrying out one of the bloodiest assaults of the country's seven-year war.

Fresh violence mars first day of Syria enclave 'truce'

More than 600 civilians have been killed in 10 days of air strikes, barrel bombs dropped from helicopters and rocket fire on the area, which is controlled by jihadist groups.

Now the death toll keeps rising as rescuers take advantage of a lull to unearth bodies still trapped in the rubble, according to the Syrian Observatory for Human Rights, a Britain-based war monitor.

Most residents moved their most basic belongings to basements and stayed there all day as a deluge of fire turned the enclave's scattering of towns into fields of ruins.

On Monday, Russia announced a daily "humanitarian pause" as international calls for a ceasefire mounted.

Strikes, clashes rock Syria's Ghouta despite ceasefire call

The measure falls short of a multilateral deal allowing for a solution to the dire humanitarian condition of Eastern Ghouta's estimated 400,000 residents.

But it offered some respite to residents who had been cowering underground for days, as well as to rescuers who had been unable to search for survivors and bodies in the rubble.

Near the same building in Hazeh, 60-year-old Abu Mohamed is waiting for rescuers to find his daughter, who has been missing since February 20.

Residents say 21 people were hiding in the same basement, and rescuers using very basic tools to pick through structures that were completely flattened have been coming back every day but making slow progress.

"I left my daughter in the basement with her husband and his family," says the man with a bushy white beard.

"I came back the next morning, I found the building collapsed and until now I haven't found my daughter nor her husband's family," he says.

He looks on anxiously as Mohammed, one of the White Helmets, lowers himself into the wreckage through a tiny gap between two slabs of concrete.

Strikes pound Syria's Eastern Ghouta as world fumbles for response

The volunteer painstakingly clears the way to search deeper into the basement by hoisting buckets filled with dust and rocks back to the surface.

"Over the past few days, we managed to retrieve six people but the rest of the bodies are still buried," says the 27-year-old, who wears a headscarf over his surgical mask to in a bid to block the smell of decomposing bodies.

According to the United Nations, housing in the besieged enclave has suffered 76 percent damage.

As one building after the other was levelled by the strikes, families and neighbours moved in together, sometimes pitching tents on the damp soil of basements to battle the cold.

"In Haza, several buildings collapsed and entire families were trapped under the rubble, with Civil Defence teams unable to reach everyone because of the bombardment," says Siraj Mahmud, a local White Helmets spokesman.

A room in a nearby building that is still standing has been turned into a temporary morgue where the rescuers laid the two bodies they just pulled out, wrapped in brown blankets.

The bodies are later placed in black plastic sheets and interred. Prayers are said hastily because warplanes are back in the sky.
COMMENTS (1)
Comments are moderated and generally will be posted if they are on-topic and not abusive.
For more information, please see our Comments FAQ