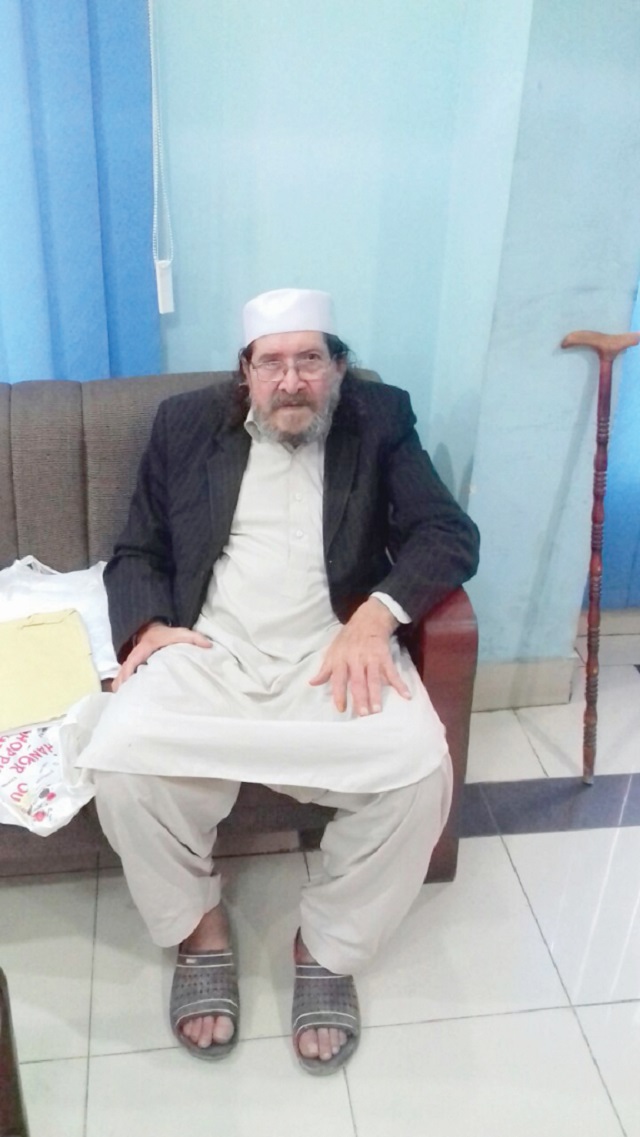 ---
ISLAMABAD: For 70-year-old Adnan Fahad Ismail Alrimawi, home is a place where his family is. For the one lesson the septuagenarian has learnt in all his years, nationality or homeland is but a place you stay in.

Alrimawi was born to Palestinian and Egyptian parents in the small city of Zagazig in the centre of Egypt.

Australia sends dozens of refugees from Pacific camps to US

However, for a while, he lived in Saudi Arabia and even reportedly held the nationality of the Middle Eastern state until he was declared an Afghan and was deported to Pakistan in 1994.

"I was born in the Zagazig region of Egypt in 1948, and my family migrated to Saudi Arabia in around 1957 where we were naturalised ," Alrimawi says while sitting in his squalid, rented dwellings in Koral, on the outskirts of the capital.

"My father was originally from Palestine and mother was Egyptian," he adds, making the connections between his heritage and the story of how he came to be in Pakistan.

However, he recalls that his time in Saudi Arabia was short, noting that soon after the naturalization of his family, they were forced to move back to Egypt owing to some political issues.

However, after things settled down, he returned to the kingdom.

Having studied agriculture at Cairo's Ain Shams University, he managed to find work in garden management and decoration in the relatively vegetation-abundant Jeddah.




"In 1993, Abdullah Bin Abdul Aziz, who was then the crown prince, revoked my Saudi nationality due to my alleged involvement in a crime," Alrimawi recalled.

"The Saudi authorities put me in jail since they did not know what to do with me since I had had no other nationality except Saudi," the 70-year-old recalled.

A year later, Alrimawi said, Saudi authorities presented him as an Afghan who was illegally living in the country.

"[They] got me a ticket to Kabul via Karachi and Peshawar and got me transit visa for Pakistan," recalls Alrimawi of his last days in the kingdom.

Reiterating his yearning to be reunited with his family, Alrimawi said that his wives and children still live in the kingdom.

Unwilling to live out his life in war-torn Afghanistan, Alrimawi said that when he got to Pakistan, he applied and obtained a refugee protection letter from the United Nations High Commissioner for Refugees (UNHCR) and settled in Peshawar.

Here, he married a Persian-speaking Afghan woman. The couple now live on the outskirts of Islamabad with their two teenage sons and a daughter in a rented house.

Having suffered an accident two years ago which has left Alrimawi dependent on the crutch of a walking stick, he finds it hard to get any work. Lack of nationality documents hampering his ability to land a job.

With his two children enrolled in grade eight in private schools, his only source of subsistence is the monthly assistance extended by UNCHR.

Though he has lived in Pakistan for over two decades with the status of a refugee, he has been unable to find and convince any country which would grant him a nationality and openly embrace him.

Law needed to better protect Afghan refugees

Moreover, his efforts to reunite with his family — spread over three countries including Saudi Arabia, Egypt and Jordan — have failed to bear any fruit either.

"I have been away from my family and country for 24 years. It is an injustice," Alrimawi cries.

"I am an old man and no threat to any country. I request King Salman of Saudi Arabia to help me reunite with my family," he pleads, adding that even life in Egypt or Jordan, where his parents originate from, is acceptable.

Published in The Express Tribune, March 1st, 2018. 
COMMENTS (1)
Comments are moderated and generally will be posted if they are on-topic and not abusive.
For more information, please see our Comments FAQ