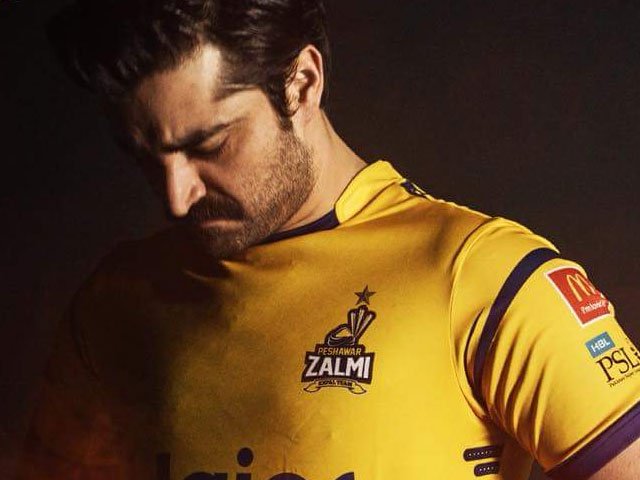 ---
DUBAI, UAE: Pakistan Super League T20 Championship is under way here at Dubai, United Arab Emirates.

International players and audiences are currently tuned in and attending exciting matches played between teams of different cities in Pakistan, namely Peshawar Zalmi, Lahore Qalandars, Quetta Gladiators, Karachi Kings, Multan Sultans and Islamabad United. Each of these teams bring together mainstream celebrities and high-profile actors to support them in their matches and help fans root for their teams.

Peshawar Zalmi, this year, has invited Mahira Khan and Hamza Ali Abbasi as their lead brand ambassadors. Hamza Ali Abbasi is a noted film, theatre and television actor who has become one of the most talked about celebrities in Pakistan.


#YellowStorm #HBLPSL #HumZalmi missing Darren Sammy Khan Shinwari but we r all set... Its on :-) pic.twitter.com/09cNWk6bt3

— Hamza Ali Abbasi (@iamhamzaabbasi) February 13, 2018


Hamza Ali Abbasi has supported Peshawar Zalmi since its very commencement and is distinguished not just for his vocal support of the team but for other controversial opinions that he shares with the world. The Express Tribune caught up with him to speak about all of this and more.

We start off talking about his designated team, Peshawar Zalmi and what it means to him. How it is different supporting the team as a brand ambassador and as a general fan of cricket, I ask. "I have a very emotional affiliation with Peshawar Zalmi," Hamza says. "I had seen it grow in front of me, I was there in PSL One. Zalmi is not just a cricket team. They have many social endeavours; they do a lot of work for social causes and education. I feel great being the brand ambassador. Let's see what happens this year on the pitch, hope we win."

Zalmi won the PSL championship last year but this year it lost a recent match against Karachi Kings by five wickets. At the time of the interview, Zalmi hadn't had a very good first innings either. What was Hamza's feeling seeing the rapid fall of wickets for Zalmi? "Aah well it's just been three matches," says optimist Hamza. "Let's see. There are seven more matches to go!"


#YellowStorm its onnnnn :-) pic.twitter.com/bW7PzJcT8Q

— Hamza Ali Abbasi (@iamhamzaabbasi) February 14, 2018


The format and the nature of the sport of cricket seem to be going through a major metamorphosis. Does Hamza view these changes in a good way or a bad way? How does Hamza see the sport of cricket changing? Previously, the maximum amount of crossover with cricket to Lollywood was if one from either of these worlds got married. Nowadays, thanks to ambassadorships and product endorsements, the nature of the game has become more about pageantry and entertainment.

"Oh I see it in a great way," Hamza asserts. "A very good way. It's becoming more commercial. I think commercial is good. If there's no money in it, people would not want to go and watch it."


#YellowStorm #PSL2018 Tolo ta der der mobarak sha pic.twitter.com/awa4ZvdrQl

— Hamza Ali Abbasi (@iamhamzaabbasi) February 24, 2018


At one point in time, cricket used to be called a gentleman's sport but it's not being termed as that anymore. The Main Hoon Shahid Afridi star welcomes the change.

"It's not a gentleman's sport anymore," Hamza responds, continuing on to say, "But it's so much more exciting now. The more commercial it is, makes it more exciting," he argues. "We should stop looking at it in a negative way. Previously, cricket was not an event which appealed to the masses. At one point in time, test cricket was the game of the elites. Only they would go and watch the matches. The game belonged to them alone. Now it's the game of the masses. It belongs to the people now. Now it's transitioned to them and it's a good thing."


#PSL2018 In my 3 years of supporting #PeshawarZalmi, I have seen them become a Team from scratch, then Champions & now Defending Champions! As PSL begins, I wish all teams best of luck with a special prayer for my ZALMIS! See u all on 24th & 25th in UAE. #YellowStorm #PSL3#HBLPSL pic.twitter.com/ufzzfnLqPH

— Hamza Ali Abbasi (@iamhamzaabbasi) February 22, 2018


The Pyaaray Afzal star is also known to post his strong opinions on Twitter and often faces criticism for his unabashed views. He is frequently in the news for controversial opinions and his whopping 1.23 million followers on Twitter immediately send him love/hate for said beliefs. Does it get to him? Does the hate bother him?

"Well, yes, I get hate but I also get love," Hamza said. "Lots and lots of love," he reiterates. "But dekho," he tries to explain, "when you choose to take sides, there will always be people who will not appreciate what you say. If you become neutral and start saying everyone's good and everyone's great, then  there's no right and there's no wrong – and resultantly, you'll not get any hate or negative comments. But when you choose to pick a side, then there will be repercussions and you have to accept and face the repercussions, no matter what they might be."

Hamza will soon be seen alongside his fellow Peshawar Zalmi ambassador, Mahira Khan, in the Bilal Lashari film Maula Jutt and another film Parwaz Hai Junoon, alongside Ahad Raza Mir, Kubra Khan and Shaz Khan.

Have something to add to the story? Share it in the comments below. 
COMMENTS
Comments are moderated and generally will be posted if they are on-topic and not abusive.
For more information, please see our Comments FAQ