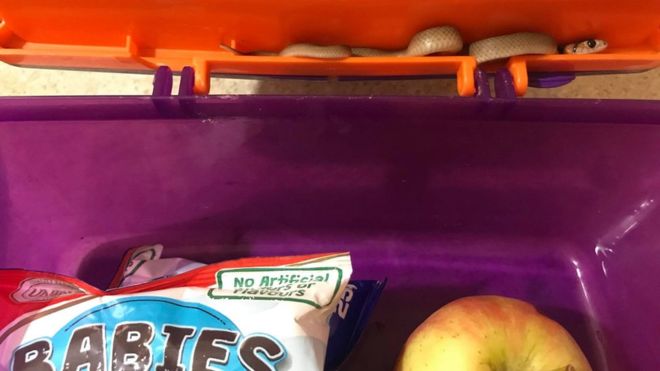 ---
A woman spotted a most poisonous snake in her child's lunchbox in Australia.

She after discovering the unexpected deadly snake in the lunchbox called Rolly Burrell, the local snake catcher.

Burrell advised her to close the lunchbox, according to BBC.

With an apple and two snacks in the lunchbox, the baby eastern brown snake was also hidden in the lid.

"Not really what you expect to see when you check if your child ate their fruit," Burrell wrote on Facebook.

Parents find baby alive seven years after being told she was dead

"The mother was pretty frightened," he told The Adelaide Advertiser, adding, "It could have been bad if the snake bit the kid, there would have been some big problem, the eastern brown snakes have venom within the first couple of weeks when they come out of the egg and this one was maybe two weeks old."

Burrell added: "It is very lucky that she spotted the snake... a little kid would not even feel the bite from something so small."

The snake was removed safely.
COMMENTS
Comments are moderated and generally will be posted if they are on-topic and not abusive.
For more information, please see our Comments FAQ