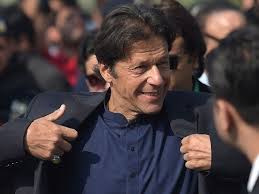 ---
LAHORE: Pakistan Tehreek-e-Insaf (PTI) Chairman Imran Khan will contest general elections from Punjab, Sindh and Khyber-Pakhtunkhwa (K-P). The party has already completed its homework and will kick-start its electioneering from March 8.

Addressing a party function held in Lahore on Tuesday, PTI Secretary Information and Central Spokesperson Fawad Chaudhry said the PTI has emerged as the biggest political party of the country and Imran will be the next prime minister of Pakistan. No political party, except the PTI, is in a position to contest elections from all four provinces, he claimed and added that the Pakistan Muslim League-Nawaz (PML-N) is limited to central Punjab while the Pakistan Peoples Party (PPP) has shrunk to Sindh.

In the upcoming general elections, Chaudhry highlighted, his party would nominate around 250 nominees from different constituencies of the National Assembly out of total 272 seats on which the elections will be held. In the present political scenario, the ruling PML-N is hardly a party of 100 candidates, mainly in Punjab, he maintained.

Imran to contest from five seats: PTI

This time, PTI central spokesperson said, Imran has decided to contest elections from Karachi, besides other constituencies of the Punjab and K-P.

After completion of delimitation process, the PTI will hold a public gathering in Karachi next month, while formal electioneering will launch from March 8.

Though, various candidates have already been shortlisted for party tickets for 2018 general elections but the party will soon announce date for receiving applications after deliberation among senior leaders.

He underscored that the PTI would have won general elections if polls were not rigged in 2013. The party had to face defeat because it was not prepared to halt rigging. However, now it has the largest number of veteran politicians. It has been prepared to stop rigging and will not allow any political party to use unfair means for wining elections, he claimed.

Criticising the PML-N, Chaudhry said, the ruling party has only 94 days left in government. The government is completing its term as mourning period of a widow because all ministers, including the prime minister, are blaming that agencies, establishment and judiciary are hatching conspiracies against them.

"After visiting Balochistan, Prime Minister Shahid Khaqan Abbasi had alleged that agencies are working against the government. State departments are not in the government control. If the situation is that much ugly why ruling party is stick to the government," he questioned.

Earlier, PTI Central Punjab President announced that the party chairman will contest elections from five constituencies, three from Punjab and two from Khyber-Pakhtukhwa (K-P). However, now the party has decided that Khan will also contest polls from Karachi.

PTI chairman is expected to visit Lahore on Wednesday today to chair a party's meeting over the upcoming general election.
COMMENTS
Comments are moderated and generally will be posted if they are on-topic and not abusive.
For more information, please see our Comments FAQ