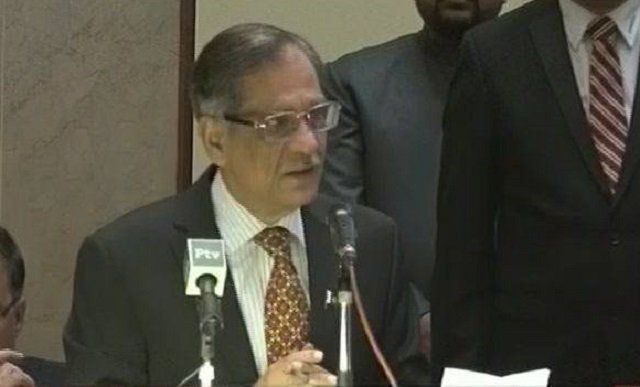 ---
ISLAMABAD: Chief Justice of Pakistan (CJP) Mian Saqib Nisar insists he has no political agenda.

"I swear to God that I have no political agenda," said the CJP on Tuesday during the hearing of a case regarding drugs prices.

The chief justice said even though he did not want to entertain political cases, there was a compulsion to hear such matters when they came to the apex court. He said he wished that the people of Pakistan got clean water, food and basic health facilities.

"It is my desire that medicines are sold at cheaper prices. I also urge all lawyers to assist us. The time has come to do something for [the] country and our intentions are very clear," said the CJP.

A three-judge bench, headed by the CJP, had summoned all pending cases from the Sindh High Court.

Drug control: DRAP allows patients to import medicines for personal use

During the hearing, the bench noted that the rise in prices of medicines could only be done in accordance with the policy issued by the Drug Regulatory Authority of Pakistan (Drap).

It stated that the Supreme Court would monitor all affairs regarding the price hike and provide other organisations with guidelines as well.

"The guidelines will be issued to prevent unnecessary stay orders and devise formulae for all companies to follow," said Justice Nisar.

Pharmaceutical company lawyer Rasheed Rizvi said that in 2013, drug prices were raised by 15%, but were then lowered on the directions of the then prime minister. He said that recently prices of medicines had been reduced by 10%.

The bench asked the authorities to release a list of companies that did not share the data.

CJP Nisar said that it was binding on them to adhere to the Drap policies and there would be no room for error once they were regulated.

Pharmaceutical company counsel Makhdoom Ali Khan stated that Drap allowed companies to increase prices annually.

The hearing of the case was adjourned till Wednesday (today).
COMMENTS
Comments are moderated and generally will be posted if they are on-topic and not abusive.
For more information, please see our Comments FAQ