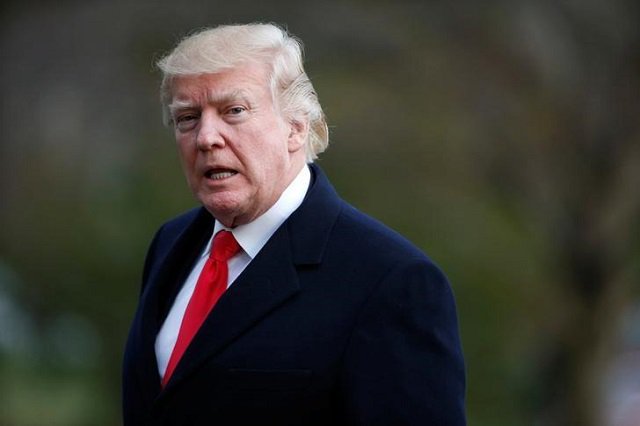 ---
UNITED STATES: The US Supreme Court on Monday dealt a setback to President Donald Trump, requiring his administration to maintain protections he has sought to end for hundreds of thousands of immigrants brought illegally into the United States as children.

The justices refused to hear the administration's appeal of a federal judge's January 9 nationwide injunction that halted Trump's move to rescind a program that benefits immigrants known as "Dreamers" implemented in 2012 by his Democratic predecessor, Barack Obama.

The protections were due to start phasing out in March under the Republican president's action, announced in September.

Under the Deferred Action for Childhood Arrivals (DACA) program, roughly 700,000 young adult, mostly Hispanics, are protected from deportation and given work permits for two-year periods, after which they must re-apply. Congress so far has failed to pass legislation to address the fate of the "Dreamers," including a potential path to citizenship.

San Francisco-based US District Judge William Alsup ruled last month that the government must continue to process renewals of existing DACA applications while litigation over the legality of Trump's action is resolved, prompting the administration's unusual move to bypass a federal appeals court and take the matter directly to the Supreme Court.

"The DACA program — which provides work permits and myriad government benefits to illegal immigrants en masse — is clearly unlawful. The district judge's decision to unilaterally re-impose a program that Congress had explicitly and repeatedly rejected is a usurpation of legislative authority," White House spokesman Raj Shah said.

US judge blocks Trump move to end DACA program for immigrants

"We look forward to having this case expeditiously heard by the appeals court and, if necessary, the Supreme Court, where we fully expect to prevail," Shah added.

The administration argued Obama exceeded his powers under the Constitution when he bypassed Congress and created DACA.

Alsup ruled that the challengers, including the states of California, Maine, Maryland and Minnesota and Obama's former homeland security secretary Janet Napolitano, were likely to succeed in arguing that the administration's decision to end DACA was arbitrary.

In a brief order, the Supreme Court justices said the appeal was "denied without prejudice," indicating they will maintain an open mind on the underlying legal issue still being considered by the San Francisco-based 9th US Circuit Court of Appeals. The justices also said they expect the lower court to "proceed expeditiously to decide this case."

Trump, meeting with governors at the White House, took a swipe at the appeals court, which has ruled against him in other key cases, as well as the broader American judiciary.

"Nothing's as bad as the 9th Circuit," Trump said.

"It's really sad when every single case filed against us is in the 9th Circuit. We lose, we lose, we lose and then we do fine in the Supreme Court," Trump added. "But what does that tell you about our court system? It's a very, very sad thing."

'FULLY LEGAL'

California Attorney General Xavier Becerra, a Democrat, called the administration's bid to bypass the 9th Circuit "unusual and unnecessary" and said the DACA program is "fully legal. "For the sake of the Dreamers who help make our economy and our state strong, the rescission of DACA should not be allowed to stand," Becerra said.

More than 2,800 Pakistani 'Dreamers' to be affected in DACA repeal

Immigration activists said they were grateful the Supreme Court gave current DACA recipients more time, but said many young immigrants are still left unprotected.

"We need a permanent solution now," said Greisa Martinez, a DACA recipient who works in Washington with the immigrants' rights group United We Dream. "This back and forth on DACA and the legislative process has created a crisis in our community."

The DACA dispute is the latest major case brought to the Supreme Court for its consideration arising from Trump's immigration policies. The justices are due to hear arguments in April on the legality of his latest travel ban order barring entry to people from several Muslim-majority nations.

Trump's move to rescind DACA prompted legal challenges by Democratic state attorneys general and various organizations and individuals in multiple federal courts.

On Feb. 13, a second US judge issued a similar injunction ordering the administration to keep DACA in place. US District Judge Nicholas Garaufis in Brooklyn acted in a lawsuit brought by plaintiffs including a group of states led by New York.

Judges Alsup and Garaufis did not say that the administration could not at some point end the program, only that there was evidence it did not follow the correct procedures in doing so.

The rulings allow those who had previously applied for protections and whose two-year status was soon to expire to apply beyond the deadline set by the administration in September. The original plan put on hold by the court rulings said that only those who re-applied by October and whose status was due to expire by March 5 could re-apply.

The administration is not processing new applications.