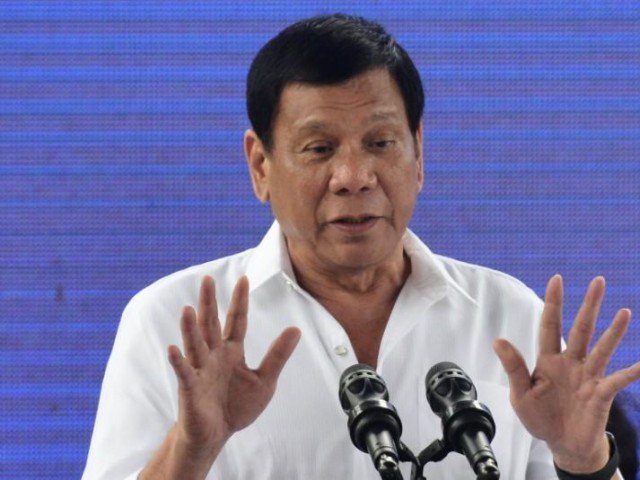 ---
MANILA: Philippine President Rodrigo Duterte on Monday defended what he called sarcastic remarks about shooting female fighters in the genitals, saying he would make them again.

Duterte, known for his often profane or obscene language, expressed anger toward what he called "amazons" who had left their children to join the New People's Army (NPA), the armed wing of the Communist Party of the Philippines.

"I said, you crazy (women) ... I will order that your vagina be shot," he said in the local language in a speech in his home town, Davao City. "That's true. That was a sort of sarcasm."

Philippines' President Duterte tells soldiers to shoot female rebels in private parts

Duterte was criticized by women's and human rights groups after first using the phrase on Feb. 7, addressing a group of former rebels and recalling an order he said he had given to troops when he was mayor of Davao City.

Duterte's remarks, including jokes about rape, have often incensed activists, but have not dented his support base. Many Filipinos view his earthy language as part of his appeal.

Philippine leader bans news site from covering his events over 'fake news'

On Monday, he said another batch of former rebels would soon visit the presidential palace: "I will tell them the same. Go ahead, have children, and then leave them. Join the NPA."

After the February 7 remarks, Duterte's spokesman Harry Roque had said he should be taken seriously, but not literally.

Duterte was angry that communist insurgents had betrayed his trust and caused a peace process with the government to collapse, according to Roque.

He has now terminated intermittent peace talks with the Maoist-led rebels and considers them terrorists because hostilities continued during negotiations.
COMMENTS
Comments are moderated and generally will be posted if they are on-topic and not abusive.
For more information, please see our Comments FAQ