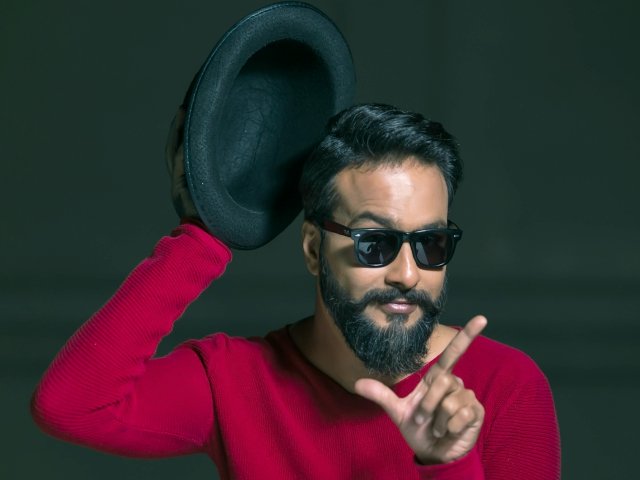 ---
DUBAI: Paras Masroor is new but known. Playing the complex character of 'Torah Khan' in the TV drama Sang-e- Mar Mar and now seen as 'Zahid' in the drama serial Aangan, Paras is becoming a critically acclaimed actor on the Pakistani television screen. The Express Tribune caught up with this theatre-graduate actor as he talked about his beginnings, his lineage, his ideologies and his future projects.

"I belong to a Sufi family," the Aik Thi Rania actor told The Express Tribune. "My grandfather was a sufi poet, whose name was Ghulam Ali Masroor. He used to write 'Faqeer' before his name. His name was thus Faqeer Ghulam Ali Masroor. He preached love and tolerance through his poetry, he wrote poetry in seven languages (Arabic, Persian, Urdu, Sindhi, Siraiki, English). Our family members are all very artistic."




Paras' father, Beydil Masroor, used to work for Pakistan Television. He served as a senior director/producer for many years and retired after 35 years in the industry. "He was also a musician and a writer, has sung much kalaams from Faiz as well. He used to have a band too at one point in his life, called 'Voices'," Paras shares, adding,"I inherited art, I think."

But what made him come into the field and follow his father's footsteps? "I always idealised my father, I always admired him. He's a multitalented, multidimensional man who truly inspires me. Also, I had always loved acting," Paras says. "I used to act in school/college, with my friends as well. You know how there are some kids who want to entertain everyone? I was one of those kids. I wanted to make everyone happy. I used to dance, sing, crack jokes. I was everyone's favourite. I was also into sculpture, painting, drawing - it's all a part of my nature." Paras also learnt to play many musical instruments as he followed his passion for entertaining people: "I play the tabla, the guitar. Our father would teach us."




Paras' father may have been supportive of his talents but like most Pakistani parents, his mother wanted him to be an engineer. "My mom wanted me to be an engineer so I studied pre-engineering and I even got into an engineering college, but I felt that the artist within me was dying as I pursued engineering. So I talked to my father. I wanted to delve into social sciences and mass media. He agreed, and then I took it all upon myself as a challenge," Paras said confidently.

"I got admission in Karachi University and did my masters' in sociology and mass communication. At this time, NAPA was opened as well. I would do shows at Arts' Council as well. Studying at NAPA was a struggle - I used to go to university in the morning and to NAPA in the evening. I used to get free at 10 in the night. In 2006, I finished my masters' and completed my bachelors in 2007 from NAPA.

He continued, "My first production was Safaid Khoon in which the protagonist was Talat Hussain and I was the villain named 'Behram'. It was a play written by Agha Hashir. I was offered plays after that. Everything was banned in Zia's regime, the cultural activities, the theatre etc. It revived thanks to Zia Muhiyuddin, Rahat Kazmi, Anjum Ayaz and Khalid Ahmed and collaborated with Pervez Musharraf to establish an institute first of its kind that offered bachelor degrees in theatre and music. And that's how I got into mainstream television."




Paras' debut serial, Kharashain was directed by Sang-e-Mar Mar director Saifee Hasan and written by Ali Imran. "I kept doing short films too. There was a soap called Perfume Chowk that got very famous. Shabbir Toh Dekhe Ga was a show that got a lot of viewership too. And now, I'm starring in the play Aik Thi Rania."

Discussing his rise to fame, Paras confessed, "I had no idea people would love my performance so much. I had no idea Pakistani dramas are seen and appreciated all over the world. And just like in theatre, you receive immediate feedback from the audience; thanks to the world of social media. And the love of fans that I have received is wonderful and humbling."

Paras plays Zahid in the drama serial Aangan in which he essays a staunch religious man who often neglects his wife and children and other family responsibilities. A witty, funny serial with relatable characters is perhaps just what television needed.




He said, "Aangan's feedback is great. The characters are so well-knitted together. People have come up to me and said that this play reminds them of the old PTV plays. There are everyday problems being discussed that revolve around a big joint family living together. We see the elder brother trying to juggle responsibilities of the family, the elder sister-in-law, played by Irsa Ghazal – and I love her depiction and her character. She impressed me so much, her performance is magical. Hassan Ahmed, Uzma Hassan, Iffat Omar, Qavi Khan – I learnt a lot from them."

Paras praised the writing of the play and remarked, "It's very intelligently telling you about society and characters that are present in every third joint family. In middle class and lower middle class (maybe in every other class), joint families are predominant. Aangan is different and light-hearted and educated audiences on the concept of family.




Paras, very inspired from Sufi poetry and Sufi lessons of love and tolerance says, "It reminds me of a verse by Shah Abdul Latif Bhitai – that prayers and rituals are all great and they should be done, but there is something else that makes God happy – and it is to fulfill rights of fellow human beings. Zahid's character tells us that don't think that just by doing namaz, roza, hajj, zakat, life is complete. Being good to people around us, fulfilling the rights of people around us is also a chief part of being a good Muslim."

Revealing more on prospective projects, Paras shared, "There are some projects in the pipeline. I keep doing short films and I keep doing web-series. There was an episode of Teeli. I'm working on some serials for major production houses which will commence shooting in Feb/March."

As to if there a particular role Paras would love to play in the future, the actor excitedly answers, "There are many. Some psycho-thriller maybe? A psychopath! Yes. Or a gangster. A tragic hero. Hamlet. Macbeth. Complex characters, where there is a lot to do. Where you can go on emotional heights. I love characters that I can learn from as well. It would be challenging for me to do such characters. If someone ever makes Gangs of Wasseypur and if there is ever an Anurag Kashyap in Pakistan, I would love to star in the franchise (laughs)!"

Have something to add to the story? Share it in the comments below.