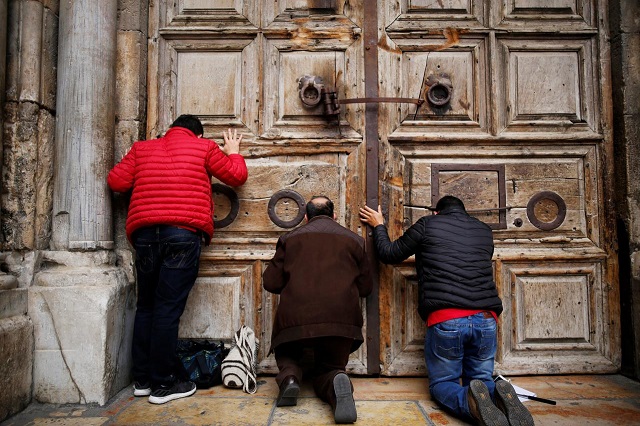 ---
JERUSALEM: Jerusalem's Church of the Holy Sepulchre, built at the site where Christians believe Jesus was buried, remained closed on Monday in protest at Israeli tax measures and a proposed property law.

Christian leaders took the rare step of closing the church, seen as the holiest site in Christianity, on Sunday at noon in a bid to pressure Israeli authorities into abandoning the measures.

Pakistan opposed to Trump plan for recognising Jerusalem as Israeli capital

They said the church, a major pilgrimage site, would be closed until further notice.

An AFP journalist reported that the church remained closed on Monday morning, while church officials said it was not clear when it would reopen.

The Greek Orthodox, Armenian and Roman Catholic denominations share custody of the church.

The church is considered the holiest site in Christianity, built where Christians believe Jesus was crucified, buried and resurrected, and is a major pilgrimage site.

Christian leaders have been angered over attempts by Israeli authorities in Jerusalem to enforce tax collection on church property they consider commercial, saying exemptions only apply to places of worship or religious teaching.

Separately, Christian leaders say legislation being considered by Israel's government would allow church property to be expropriated.

Jerusalem Mayor Nir Barkat says the city is due 650 million shekels ($186 million, 152 million euros) in uncollected taxes on church properties.

He stresses the Church of the Holy Sepulchre and all other churches are exempt from the taxes, with the changes only affecting establishments like "hotels, halls and businesses" owned by the churches.

Pro-Jerusalem rallies: Protests erupt against Trump

Christian leaders say the measure jeopardises their ability to conduct their work, which includes not only religious but also social services to those in need.

A separate bill seeks to allay the fears of Israelis who live in homes on lands previously held by the Greek Orthodox Church and which were sold to private developers, according to the lawmaker proposing the legislation.

The bill would allow certain lands sold by the Greek Orthodox Church - a major landowner in Jerusalem - to be handed over to the state, which would then compensate those who bought it from the church.
COMMENTS
Comments are moderated and generally will be posted if they are on-topic and not abusive.
For more information, please see our Comments FAQ